A Review of Nintendo Switch Neon Blue and Red Joy-Con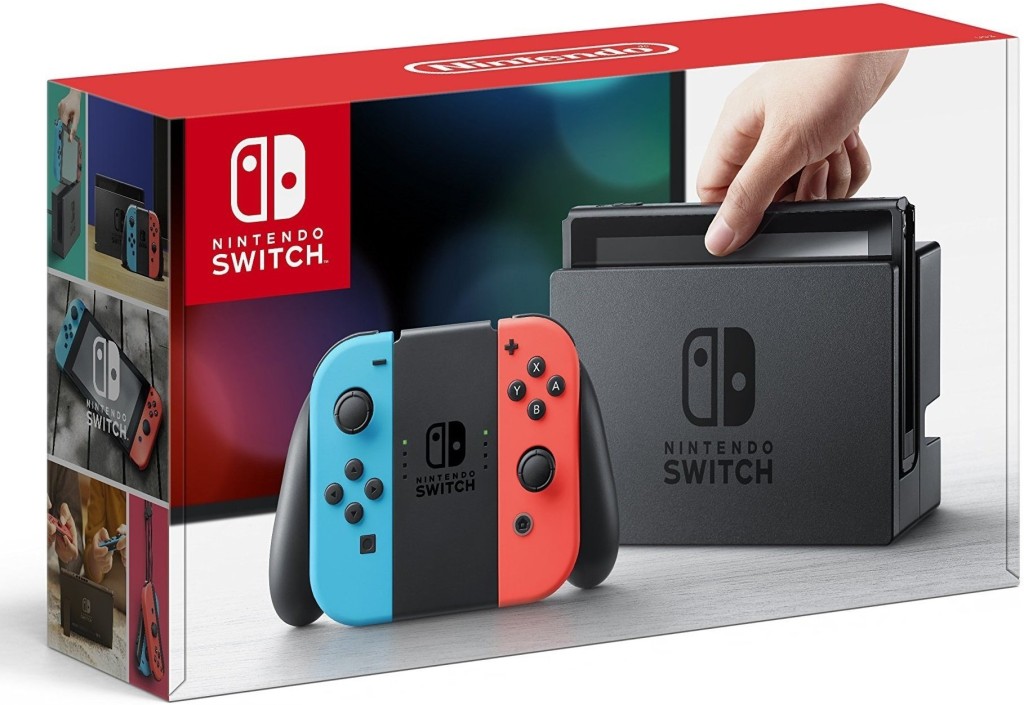 Since its launch in the market, Nintendo has been revealing some wonderful hardware and software sales that pertain to its newest console known as Nintendo Switch. It is a 2-in-1 portable home console that works amazingly weather you choose to play it at home or on the go.
Available for £299.99, this console has 2 versatile and removable Joy-Con controllers that can be used for a solo game or spilt for two players. Nintendo switch does not have the raw power that can produce 4k HDR but it comes with an innovative design that has gained a surprising success in the game market.
The best part of Nintendo Switch that even though it was released with several issue, the manufacturer didn't take too long to quickly fix the main concerns associated to its product.
Design & Features
Nintendo is the famous game-related production company that has created numerous series of game machines that have been very popular in animation industry. Nintendo Switch is one of the premium productions which have a great market all over the world.
With a dual purpose, this console comes with a bit of gear, and has the Switch Dock that is used to connect it to a television. Also, you get a Joy-Con Grip which slots the right and left Joy-Con into the console so it can work as a more traditional controller.
To use motion controls, Nintendo Switch includes 2 Joy-Con straps for games which are designed as the perfect tool for enthusiastic gamers. Then there is an HDMI cable accompanied by a power lead. Additionally, it has a small flagship machine. Just strip away the Joy-Con controllers and you will get a black box which is similar as a mini Android tablet in size.
There is a wide bezel 6.2 inch capacitive touch screen and a fine display size for playing any game in portable mode. In other words, the display screen is a slightly larger like the screen of PlayStation Vita or maybe a screen of decent phablet
Nintendo Switch has a much comfortable exposure when you play games in tabletop mode using its kickstand, however, it may need you to sit closer to play some games such as Mario Kart 8 Deluxe in 2 player local multiplayer due to the frantic nature of the game.
What is more, the console is extraordinarily well-made, and is far from the ordinary feel of Tonka Toy Plastic of GamePad. It has a metal finish paired with the comfortable Joy-Con which makes it the best console Nintendo has ever created from an artistic perspective.
Battery
Nintendo Switch is designed as the best home console, and comes with a battery life up to 6 hours. This key factor allows you to play games on the console when you are at home or traveling on a long route. However, its battery life also depends on the type of games you are playing in addition Wi-Fi settings and the brightness.
Testing Battery Life
In order to have a better idea of how long the Nintendo Switch battery lets you play games is to test the console at two settings. Play Legend of Zelda: Breath of the Wild for 1 nonstop hour and then change the console with the supplied power adapter to use it for another 60 minutes to see how much charge its battery recovers.
If you use the console at 100% brightness and Wi-Fi enabled, the battery is likely to last up to 2 hours and 45 minutes which is less than the hours claimed by its manufacturer. In other words, the battery time will be conditioned with the variables, for example, the intensity of the part of the game you are playing will impact the results.
Another way to test Nintendo Switch's battery life is more typical of how the majority of players will use it on the go. It's generally cheering that you can enjoy playing games for about 3 hours and 15 minutes if you set its brightness at 50% and use Airplane mode.
Battery Test Results
It is incredibly impressive to know that Nintendo Switch can power 3-hour gaming with a high-end experience such as you would get from Breath of the Wild. However, if you choose to play simple games that do not involve hard use of the hardware; you can get far more from this console.
Other Features In At A Glance
The 6.2Inch screen of Nintendo Switch is only compatible with a maximum resolution of 720p.
Most players have found its portable mode as the best mode for playing games which even works brilliantly with extensive games like Zelda.
The console has a screen with capacitive touch, friendly user-interface and putting menus. It's responsive and can move around the display quickly and easily.
Its UI is very much alike to the Wii-U in terms of aesthetics, and offer a simple and titled display.
It allows you to see all important information such as games, news, users, system settings and eShop from its main screen.
Nintendo Switch allows you to add friends depending on who you have played with in previous games on other gaming machines.
Buy Nintendo Switch Neon Blue and Red Joy-Con on Amazon
Nintendo Switch Neon Blue and Red Joy-Con Review
Summary
Nintendo switch does not have the raw power that can produce 4k HDR but it comes with an innovative design that has gained success in the game market.
comments