SyncMate Review: A Solution for Syncing Android to Mac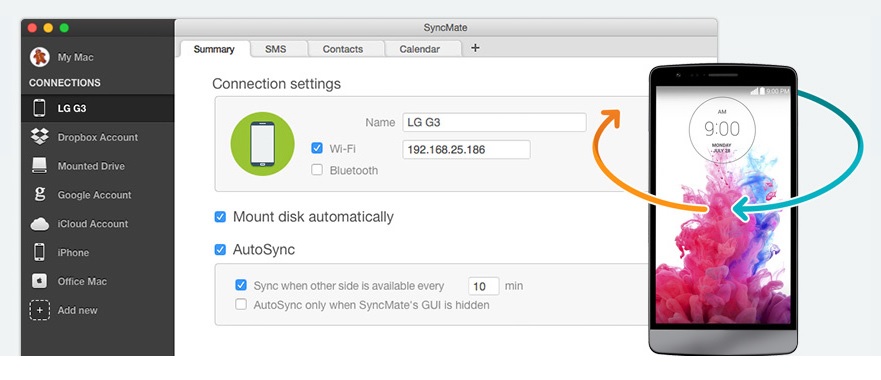 We live in the age of information technology; we are surrounded by a horde of machines that aid us in performing our daily tasks. Sometimes, these machines need to coordinate in order to perform their function properly. The same can be said for your laptops, smartphones, tablets and what not. Could there be a problem? Yes, indeed. Everything works smoothly when you are using products of the same manufacturer. For instance, if you own an iPhone, a Mac and an iPad, you will have absolutely no trouble in syncing the devices and ensuring all your data can be accessed on any of them.
The real issue arises when you are using devices of different makers. When you have a Galaxy smartphone and a Mac, you are stuck because Apple has some strict rules and regulations and it is not easy to bypass them for you to be able to sync your devices. Luckily, syncing solutions are available these days in the form of apps and software. While you have plenty of options to choose from when you have to sync Android to Mac, there is no better choice than SyncMate. Mac users will find that SyncMate allows them to sync other Macs, Android devices, online accounts and USB drives quite easily.
You can find two versions of SyncMate, both of which are designed for the convenience of its user base and you can pick the one that meets your needs. The first one is the Free edition, which can come in handy for syncing your calendar and contacts between your supported accounts/devices and your Mac. The best part is that SyncMate can do all of this in the background while you are sharing data with iOS, Android and cloud services. In contrast, you wil find that there are significantly more options at your disposal with the Expert version of SyncMate.
It can be used for syncing videos, images, bookmarks, music, reminders, calls, SMS and other numerous useful options. However, you should also bear in mind that sync options can also vary for supported accounts and devices so you should check the compatibility list provided on SyncMate's website. Just like the Free version, the Expert one also offers you free background sync, but it doesn't stop there. There is also the AutoSync option that enables you to set different parameters for when devices are synced automatically.
Another benefit of the Expert version of SyncMate is that it can sync folders between your Mac and the storage devices mounted in real time. This means that when data is changed on your connected device or Mac, it will be automatically synced. It is also possible for you to send, search, create, export or delete text messages from your iOS or Android device on your desktop. Depending on the device that is synced, the process can be performed via Bluetooth, Wi-Fi, USB and Ethernet. Hence, SyncMate is a great tool when you wish to synchronize your Mac with any iOS or Android device.
comments