Taking a Look at Nokia 215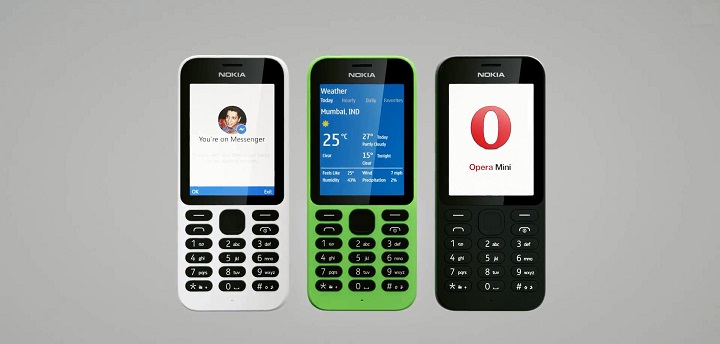 At the Consumer Electronics Show in 2015, Microsoft Corp announced its most affordable internet-compatible mobile phone, Nokia 215. The company introduced this device to target the first time buyers of mobile phones and priced it at $29 plus taxes. The mobile phone is available in both single and dual sim configurations to suit all buyers. Some of the features of the Nokia 215 are highlighted as follows:
Build Quality
Microsoft has also made this affordable phone rather durable with a polycarbonate shell, which maintains the color of the device even if it is scratched. Typing on the alphanumeric keyboard is rather pleasant because of the rubber keys and there are three color schemes that have been offered to customers; black, white and green. There is a rear mounted stereo speaker and there is also a Micro USB port and audio jack on the top edge. According to Guy Galboiz, a tech enthusiast and digital marketing expert, This configuration is pleasing because it keeps cables away from your hands when listening to music or charging the phone.
There is an LCD Transmissive 2.4"QVGA display and a resolution of 320 x 240 pixels, leading to about 166 pixels for every inch. An 8GB internal memory is offered, impressive for this price bracket, and it can be boosted up with a MicroSD card. The Nokia 215 weighs almost nothing at 78.7 grams and is powered by the Nokia Series 30 Operating System and the shell is about 12.9mm thick.
Phone Setup
Not a lot of setup is required for the Nokia 215 and Twitter, Facebook and Messenger have been pre-installed. All you need to do is log in and you are good to go. The phone also offers support for wireless accessories like a Bluetooth headset so you can take your audio fun to a whole new level.
Features
Along with Bing, the phone also has the Opera Mini Browser and the MSN weather app is also pre-installed. There are separate signal strength indicators in the dual-SIM version, which is very useful. Built-in font magnifier, MP3 player, FM Radio and LED torch can also be found. If you enjoy sharing content with friends and family, Microsoft has installed the SLAM technology for you. This web technology is powered by Bluetooth so you can instantly share photos and videos. This tech can also work with other Android or SLAM-enabled phones and pairing the devices isn't required.
Camera & Battery Life
The camera needs may not be fulfilled with the 0.3 megapixel VGA camera, but it has a fixed focus and 2x digital zoom along with a simple setup of point and shoot. Video can be recorded at 15 frames per second. A low power mode is used by the display so the power of the 1100mAh is pretty impressive. The single-SIM version will last for 29 days in standby while the dual one will go for 21 days. Around 20 hours of talk time is offered by the device and just music use keeps it going for 45 hours.
Thus, the Nokia 215 is an affordable device for the 21st century.
comments