Everything You Need to Know About Spanish Charity Raffle "Contra el Cancer"
Loteria Nacional Extra, the Spanish Raffle, is an exciting monthly raffle that hails from Spain. This raffle has been played in the country for more than 200 years. Players from all over the globe participate in the Spanish Raffle as it allows 1 out of 3 players to take a prize home from a pool of €84 million, €105 million and €140 million. The Sorteo Especail Del "Càncer", this month's draw, is dedicated to the Spanish Association Against Cancer. It is known as Asociación Española Contra el Cáncer and was founded in 1953. It is a non-profit organization that operates as a private-entity. It is dedicated to raising public awareness, protecting the rights of cancer patients and improving their quality of life.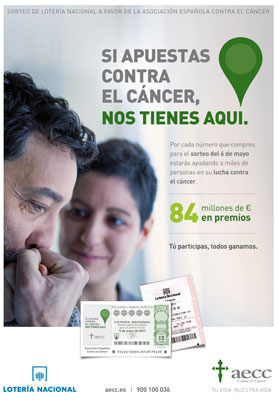 The draw will be conducted on 5th May, 2018 and the prize pool of the Spanish Raffle is €84 million and there is a grand first prize worth €1 million. In order to participate in the Contra el Cancer, it is important to understand that this raffle is different from other lottery games. It is actually similar to Loteria de Navidad and Loteria del Nino, which comprise of 10,000 tickets. Each of these tickets have a five-digit printed code on them, which is between the range of 00000 and 99999. Each ticket is divided into 10 equal shares.
In Spanish, these shares are known as 'decimos'. The raffle number is pre-printed on the ticket, which means that players don't have to choose their lottery numbers. Nonetheless, they still have different options to play. When you decide to participate in the raffle, you have the choice of either picking and buying one share of a raffle ticket number or purchasing several shares with a single raffle ticket number. Doing so will enable you to increase your winnings if that number wins a prize. You can also boost your probability of winning by purchasing shares in a variety of numbers.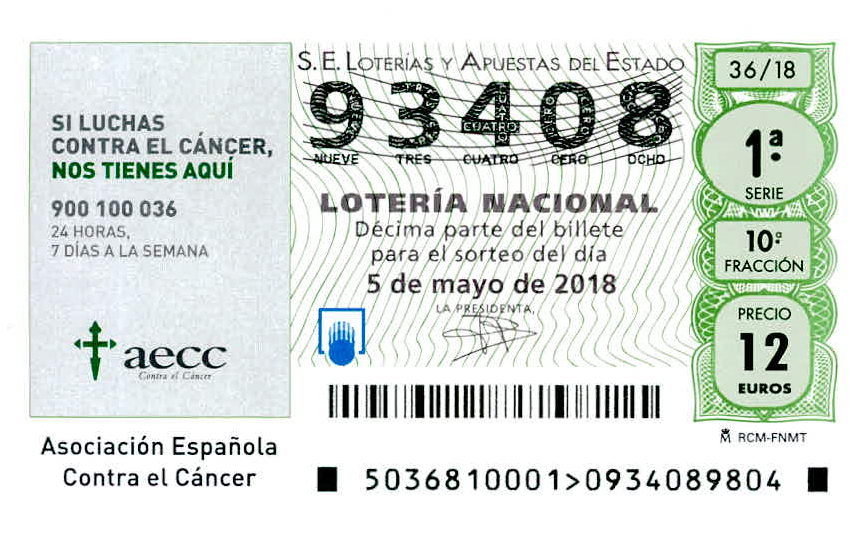 If you win, the amount of the prize will depend on the number of shares you have of the winning raffle ticket number. If your raffle ticket number wins a prize worth €250,000 and you have one share, your winnings will be about €25000. There are approximately 40,000 prizes available for this exciting Spanish lottery game and listed below are the prizes you can expect to win along with the winning combinations available:
For first place, the payout is €100,000 and 1 winning combination
The second place has a payout of €25,000 and 1 winning combination
For third place, the payout is €5000 and 1 winning combination
Same last 4 digits as the five numbers drawn earn €300 and have 50 winning combinations
Same last 3 digits as the 11 numbers drawn get €60 and have 1,100 winning combinations
Same last 2 digits as the 9 numbers drawn get €24 and have 9000 winning combinations
There are additional prizes also available as there are fourteen to sixteen prize divisions. Thus, everyone has a chance of taking home a prize when they participate in the Spanish Raffle Contra el Cancer. The high number of shares and tickets available have also given its popularity a boost. However, those participating in the raffle should know that they need to be at least 18 or older in order to do so. Furthermore, there are also tax implications as winnings exceeding €2,500 are subjected to state tax of 20%. But, the tax is calculated on the amount higher than €2,500. As the funds obtained through the raffle are used for a good cause, it makes the Spanish Raffle Contra el Cancer a good game to participate in.
comments