Nintendo Claims Copyright Infringement in Minecraft Videos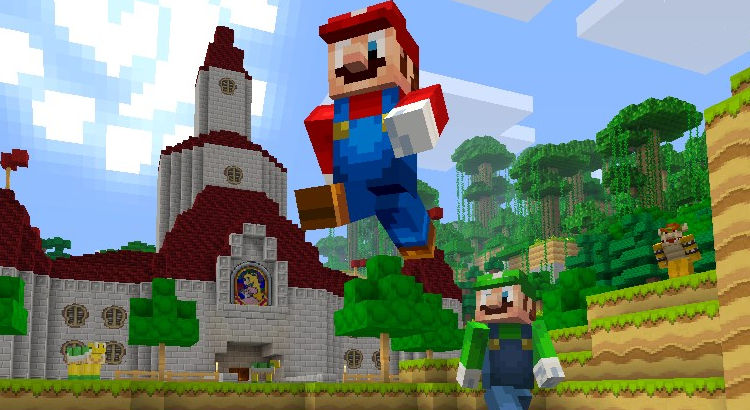 One of the most video-centric gaming communities found online is the Minecraft community. There are hundreds of thousands of players in different parts of the world who regularly share and stream mods or gameplay through Twitch and YouTube without any problems. On the other hand, as far as video is concerned, one of the most restrictive game publishers is none other than Nintendo. They have a whole history of taking down videos of its games and have also issued threats for shutting down live-streaming tournaments. The company has also had trouble with sharing of advertisement revenue with video creators.
Therefore, problems were definitely expected to arise when the two sides effectively merged with the 'Super Mario Mash-Up Pack' that was recently released for the Wii U version of Minecraft. As expected, there have been issues because a number of YouTube users complained publicly that Nintendo is making claims of copyright infringement on their Minecraft videos. The reason behind these copyright claims is primarily due to the use of Super Mario 64 music in the game, which is actually included as a portion of the mash-up pack, but it still becomes a reason for copyright clash with the original Nintendo 64 game.
A Nintendo streamer gave one memorable video response in which he urged the company to 'stop trippin' about the videos. The streamer mocked Nintendo by imitating them and stated that they didn't want people to play their games as they don't want to show them on YouTube. He also added that apparently they didn't want anyone to know how wonderful the gameplay is. 4J Studios, the developer of the Mario Mash-Up pack responded quickly on Twitter. They said that they had heard about the copyright claims on the Super-Mario mash-up videos and had been assured this wouldn't happen.
They stated that they would be doing a follow-up with Nintendo. When other users questioned them, they answered that Nintendo was going to investigate and deal with the issue of copyrights. Nonetheless, even if what appears to be an honest mistake is resolved quickly, the current copyright claims shed light on the severe culture clash that persists in the modern gaming industry.
It has become a battleground between companies that have accepted and embraced the trend of social video sharing and those that are trying to prevent sharing at all costs. No matter what the case, gamers need to bear in mind that when they are sharing their gameplay videos online, they are getting an opportunity that can be rescinded at the discretion of the game maker.
comments