What Are The Best Feature Of SyncMate For Mac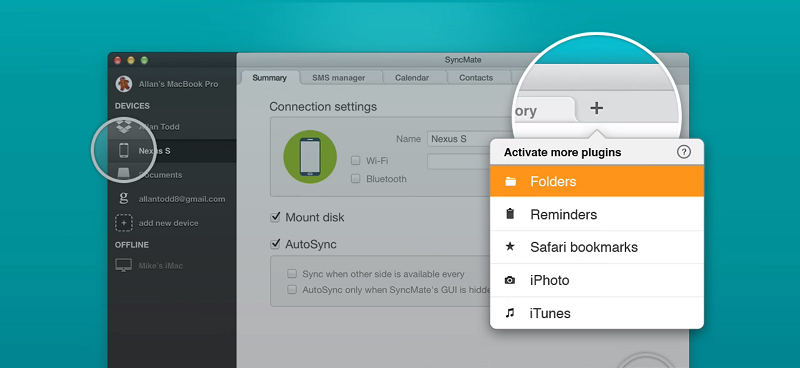 If you are often worried about syncing the files on your iPod touch with your Mac, you will find SyncMate as the best solution for your problem. SyncMate is popular among millions for facilitating the file transferring between Macs and iPods in addition to the amazing syncing options. Some other applications might claim to do the same but they can never touch SyncMate in the quality it offers. There are features that make this application such a favorite for thousands of people using Macs and iPod touch devices. Here are some of the best features:
It Syncs Everything
SyncMate, an app to sync iPhone with Mac, literally allows you to sync everything on your devices. You are not limited to syncing your favorite music tracks and playlists on iPod touch with your Mac only. If you have any contacts saved on your iPod touch along with some important calendar events, they will also sync within seconds with your Mac. You can also sync all the folders to keep things organized on both the devices. Your photos and even the iTunes will also be synced between the two devices making your job much easier. All of this syncing is performed at amazingly fast speeds.
It Does In The Background
If you browse around and try out other file transfer applications, you will come to know that they take a huge toll on the performance of your devices. They perform syncing right in your face interrupting your work and slowing your computer down. On the other hand, SyncMate has been designed to stay in the background as it performs the syncing between your devices. The best thing about this feature is that the developers have made it available to you for free. Now, you can perform syncing without seeing your Mac slowing down and annoying you.
It Has Non-Sync Features Too
Of course, not everyone is interested in syncing their iPod touches to their Macs all the time. Sometimes, you want more control over how you transfer the files. That's when the non-sync options of this application come in handy. If you are looking to transfer files form your Mac to iPod touch i.e. you want some new songs on your iPod touch that you only have on your Mac, you can do this by using the mounting option. Using this option your iPod touch will appear on your Mac as a mounted disk and you can transfer files in both directions.
It Has More Modules
SyncMate is not a boring application with only one function for you. This application actually has several modules that suit the needs of different consumers. The iPod touch to Mac syncing feature is just one of its many modules. Using other modules of this application users can now transfer their Android files to their Macs – something that you considered impossible just some time ago. You can also transfer files from Mac to Mac and from every iOS device out there to your Mac. It is a complete solution for anyone who owns these modern tech devices.  
comments