How Can You Back Up Your iPod Data On Mac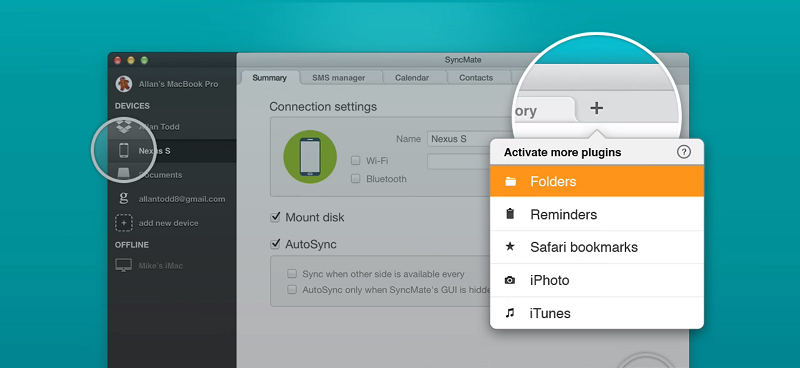 If you are worried about syncing the data on your iPod touch with your Mac, you have found the right application. SyncMate is probably the best application out there that allows you to sync and back up your data on iPod touch with your Mac without any hassles. This application has many modules that give you access to many other devices using your Mac. The developers of this application have done their best to make this application as complete as possible. When using it to sync your data with Mac, you will not find anything missing on it.
This application performs syncing of all your iPod touch data on your Mac at fast speeds. You can use the methods that you prefer for syncing the data. You could use Wi-Fi or a cabled connection to make the syncing possible. You might be worried that you will only be able to sync your audio files on your Mac but that's not the case. This application lets you sync anything that you have on your iPod touch device to your Mac. With fast speed syncing you never have to wait for too long for your data to completely sync on both the devices.
The good thing about this application is that it allows you to sync your personal data as well as all media files between the two devices. If you like to create folders for different types of files, you can sync them directly to your Mac without worrying about copy and pasting files among folders. The developers have made sure that you are able to perform the syncing with as much ease as possible. For that purpose they have designed the application to run in the background as you continue to do other work on your Mac device.
It also supports with iOS devices such as your iPhone but in that case it will only sync the user media. User media is a folder that you will find on your iOS device when you go into the file manager. If you go for the free version of this application you will be able to sync your calendar, and contacts between the two devices. The good thing is that the sync is still performed in the background so your continuity of work is never compromised. To enable the auto-sync option on your devices and sync all your media files including your folder and iTunes, you will need to buy the expert version.
Mount disk option is also available with SyncMate, an app to sync iPod Touch with Mac. With this option you are able to connect the two devices without requiring them to sync. Once you have connected your iPod touch as a mounted disk on your Mac, you can access the content of your iPod just like you access the data on any other drive. With this method you are also able to transfer the files on your Mac to your potable iPod touch. You can also create backups of your iPod touch data to restore at any given time in future.
comments