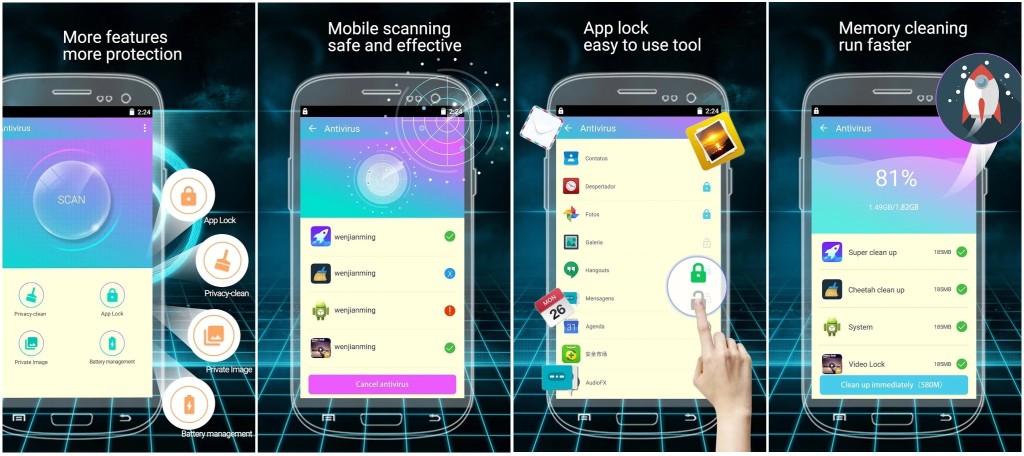 Technological development led to the advent of smartphones, which have become an essential part of our daily lives. Today, we cannot even imagine leaving the house without our phone. They are not just a means of staying in touch and communicating, but have become innovative tools that can be used for performing a number of tasks and even running a business. Yes, smartphones can now be used for almost everything you did on your PCs a while back; whether it is sending mails, creating documents or invoicing customers. Therefore, keeping your phone secure has become a priority for everyone.
Since your personal data and confidential information is stored on your smartphones, you want to ensure it remains safe from prying eyes. In addition, just like PCs, phones tend to slow down over time due to clutter and needs to be cleaned. The answer to all your problems can be found when you choose to install Antivirus Cleaner on your Android device. As the name indicates, this app is aimed at offering you 100% protection from any malware or virus that can compromise your smartphone's security and keep it clean. It is easily available in the Android PlayStore and can be downloaded with a few clicks.
When you are done with the installation, you can rest assured that your phone is secure in the best possible way and use your Android smartphone for browsing the internet, doing your shopping and keep everything protected and safe. The app can also optimize your phone's function as it clears any useless applications that are running in the background. Your smartphone performs more smoothly when its memory has been cleaned up. Moreover, the app also scans every app or program that you are downloading or installing to verify that it is safe of any malware or virus.
Antivirus Cleaner is one of security apps that also offer you the feature of App Lock, which can be used for placing a lock on apps that you don't want others accessing. Hence, even if your phone is stolen or borrowed by someone, they will only be able to open the apps you want them to see and not the ones that have been locked. Likewise, if there are pictures that you don't want others to see and wish to keep them private, the app provides you with PhotoVault to do exactly that. It is like a picture safe where you can keep private photos away from prying eyes.
You can also browse the internet in a more secure and reliable way through the stealth browsing mode offered by this app. It eliminates the need to stress about others knowing what you are accessing and the information you are offering. Furthermore, Antivirus Cleaner also comes in handy for battery management of your Android smartphone. It sends you reminders when the battery is running low and turns on the power saving mode so your battery is conserved as much as possible. The app is free of any spam ads and takes quick action in keeping your phone protected.
comments