The Word Search Puzzle Game Review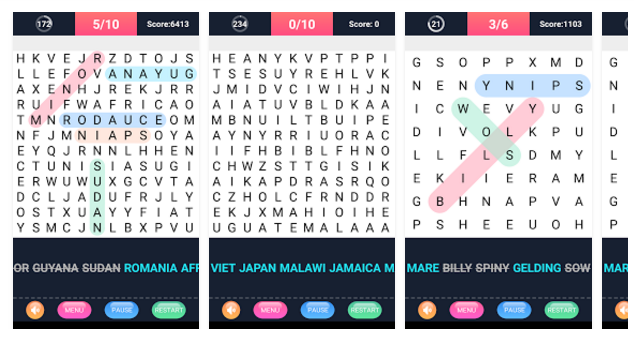 Available on Google Play, The Word Search Puzzle is a simple game to search words in an array of letters arranged in a grid. This game is perfect for those with objective of finding words hidden in the array. Since, words in a word puzzle game are placed in any direction and can be both horizontally or vertically or even any of the four diagonal directions, most players take it as a challenge and seek the words even with more curiosity.
You can play the word puzzle anytime whether you are home and getting bored or outside waiting for a cab.  It is quite relaxing to be interactive with this game when lying on a bed or a good way to kill the boredom on a long journey.
Released by Potato Game Studio Puzzle, The Word Search puzzle is an interesting blend of fun and learning. It is very simple to play as you just have to take your finger over a word to pick it. The game shows a valid word remaining highlighted after you have found it. Also, it marks that word as 'found' on the word list so that you know the word is already found and you should move to another search. Each game is set for a limited time allowing you to search and complete the words as much as you are up to. Players who are able to complete faster get the higher score for their aptitude.
Games like the word search puzzle are very useful for kids to learn new words and help them recognize how they can arrange words. An excellent point of this game is that it involves the need to indentify words in an area. With a concise UI layout, this game comes with three options to offer you the levels for word search. These levels include:
Easy (6*6)
Medium (8*8)
Hard (12*12)
The game was updated on October 13, 2016; the word search puzzle is available with the current version of 1.1.  With up to 500,000 downloads so far, the game requires the operating system of Android 3.0 or higher to run on a device.
The word search puzzle can be very useful for any child to understand letters in the alphabets which are some of the vital things that all children might need to deal when learning to read.  The only upsetting thing with the word search puzzle is too many ads that start popping up when a user starts playing it.
comments