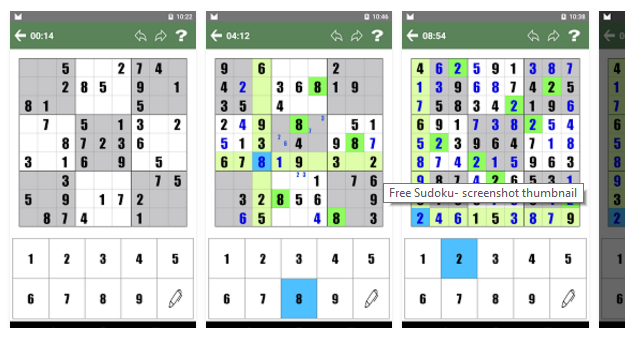 Cardgames Studio's Free Sudoku is simple number game which doesn't need any reference material or certain IQ level. It's a perfect blend of stimulating and fun. To enjoy the game, all you need to have is a smart device such as a smartphone or a tablet with Andriod 3.0 or higher version and "Free Sudoku" downloaded on it.
Originally a Japanese game, Sudoku is very popular in the world of puzzles which lets you get away for a short while and get lost in the world of number. Initially, these types of puzzles were introduced in a hard copy format and gained huge popularity. At present, Sudoku is also available on various websites as well as Android apps such as Cardgames's Free Sudoku. You can play it anytime and anywhere to help yourself in dealing with boredom. Many people play Sudoku during their breaks at workplace, or waiting for friends in parks.
Contrary to common believe among players, you don't need to have any mathematical calculations to solve these puzzles. It just requires you to have understanding of a bit of jugglery with numbers placement.
The game is useful for both adults and kids to remove their irrational fear for numbers. Many times, a Sudoku puzzle can also help pre-school kids learn substituting symbols, colors or shapes for the numbers 1-9. Furthermore, it can be a great source of training your brain with real-time amusement experience.
The game has a very light version which goes less than 2M and you don't need to wait longer to have it installed on your device. Alike most puzzle games, The Free Sudoku has three difficulty levels to offer to its players. These levels range from difficulty to almost impossible. Some players with the objective of solving the most difficult puzzles take it as a challenge and continue to attempt daily.
The game has a variety of features to offer including auto save and clear notes. You can also check errors in the app after you have passed a level. There is an auto-fill feature which can also be closed by the player if required. The game was last updated last year in August and is available with its current version (1.0.7) on all smart device with Android 3.0 or higher version.
With 100,000 – 500,000 installs, the overall layout and design of the game is good, however, the only thing that is quite irritating for most users is the display of distracting flashy ads that often cause interruption while the player is trying to concentrate on content. .
comments