Tips to Reduce the Bounce Rate of Your Business Website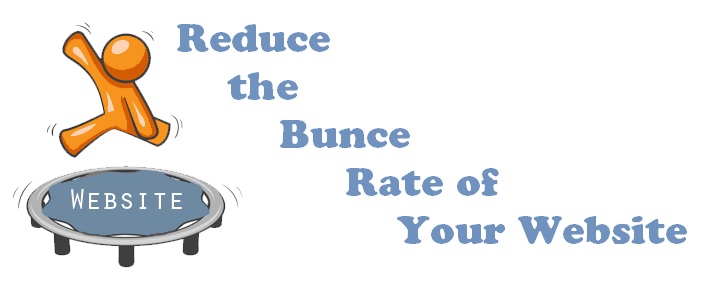 As a website owner or manager, it is up to you to monitor your website and how it is being used by your visitors. If you have noticed an inordinate amount of traffic that "bounces" shortly after landing on your site, here are few things to investigate to make sure your site is running optimally.
Use Your Analytics
Do not underestimate the power and information that is contained in your website analytic program. Your analytics provides you with all the data you need to see what is happening at your website. You can learn the exact demographics of the people who have visited your website, including their ages, the device they are using to browse your website, the length of time they spent on site, how many pages they consumed, what network they are on, and a whole lot more. By using this data, you can make improvements to decrease the bounce rate and improve your overall results.
Understand Who Your Visitors Are
Using the information that is available in your analytics program, you can make changes as needed to satisfy your website visitors. If you notice that a lot of them are using mobile devices for their visit, making sure that you have a responsive design makes it easier for them to spend time on your site because your site formats correctly to fit their screen.
Improve Your Website Load Time
These days. people do not have the time or patience to wait around for a website to load. If your website takes to long to pull up all the elements, you are giving your valuable site visitors a reason to leave your website in a hurry. If you are unsure of how long it typically takes for your site to load, you can test it at any one of many speed test websites that offer it for free.
Improve Your Navigation
Another factor that could be causing people to bounce off of your site quickly is a lack of clear navigation or options to visit other pages or sections of your site. By giving your visitors ways to quickly and easily access other parts and pages on your site, you are increasing the stickiness of their visit for better overall results.
Offer Engaging Content
The chances are good that your website visitors want interesting content that engages them. Be sure to update your site content often with thought-provoking material like resellerratings review to keep your visitors coming back often to read more.
Implement Landing Pages to Encourage Direct Action
When you want to encourage your visitors to complete a certain action it is smart to use a landing page. For instance, if you want a visitor to sign up for your newsletter, a landing page that is designed to get them to sign up exists solely for that reason. When you are using landing pages, it is common to remove most other navigation from the page so your visitor does not click away from completing your desired action.
Improving your bounce rate is not that hard to do when you are paying attention to what your website visitors are doing when they are at your site. The more improvements that you make to accommodate them and make their experience a smoother one, the better.
comments