Reviewing the Dell U3415W Monitor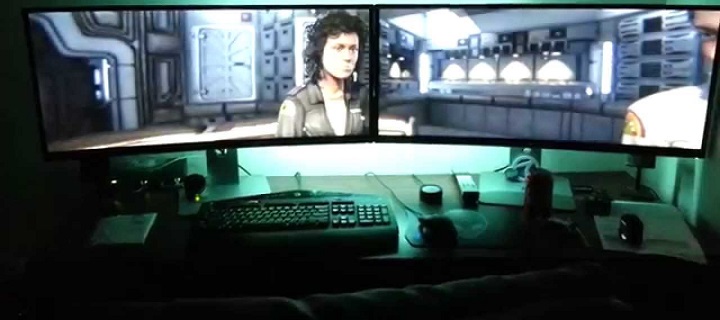 Curved-screen monitors are catching on gradually, even if they haven't taken the market by a storm. They are trickling in slowly and steadily as Dell joins Samsung and LG with the Dell U3415W priced at $1199 with a 34-inch gargantuan ultra-wide curved display that has been designed to bring panoramic viewing right at your desktop. In-Plane Switching (IPS) panel technology is used by the monitor for delivering accurate and rich colors and an excellent gray-scale performance and wide viewing angles. It has daisy chaining capabilities, a USB hub, a number of l/O ports and also includes a height adjustable VESA stand. While it doesn't come cheap, the Dell U3415W monitor gives you great performance for your money in the category of ultra-wide monitors.
While the UltraSharp monitors by Dell have always had a pleasing aesthetic, the Dell U3415W takes it to a whole new level with a mostly bezel-free and slick design that makes the 34-inch device appear even larger than it already is. It does have a matte-black and thin bottom bezel boasting the Dell Logo, a power switch and four touch-sensitive function buttons, but the bezels on the top and bottom are almost invisible. The slightly curved 34-inch gigantic Wide Quad High Definition (WQHD) panel has a 21:9 aspect ratio, a resolution of about 3440 by 1440 and an impressive brightness level.
A matte-black 18.6 pound cabinet houses the device and has an anti-glare and non-reflective coating. A square, silver stand supports the cabinet with a mounting arm that adds about 60 degrees of swivel, 4.5 inches in height and 26 degrees of tilt maneuverability. There are 9-watt speakers included in the 34″ monitor Dell U3415W, which deliver robust, loud and distortion-free audio. These speakers don't give you booming bass, but they have enough bottom to prevent them from sounding tinny. This monitor comes with a boatload of ports, which include a mini-DisplayPort unit, two full-size DisplayPort connectors for daisy chaining several monitors and an HDMI 2.0 input.
Apart from these, you also have an audio-line out for connecting speakers, a Mobile High Definition (MHL) for connecting to smartphones and tablets or charging them, six 3.0 USB ports, two of which enable you to share a mouse and keyboard with two PCs as they are upstream connectors. In addition, there are lots of basic and also advanced picture settings offered by the Dell U3415W and the menu system is quite user-friendly. Along with Gamma, Contrast and Brightness settings, there are seven picture presets including Multimedia, Standard, Game, Movie, Custom, Paper and Color Temp.
There is a 3 year warranty available for 35″ monitor Dell U3415W on labor, parts and backlight. The box also includes an HDMI cable, a mini-DisplayPort cable and an upstream USB cable. There is also a Quick Start Guide and you can also get the drivers, User Guide and Dell's Display Manager software in the CD provided. You can find all the information you need for setting up the Dell U3415W monitor according to your specifications and using it for the ideal performance.
comments