You Will Be Amazon's Next Delivery Drone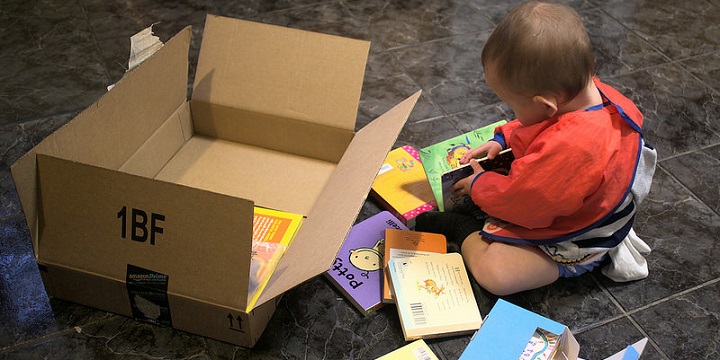 In its ongoing quest to provide speedy delivery, Amazon is looking to turn the whole of the United States into a country of couriers. A mobile application is being developed by the Seattle retailer, which, in some cases, would be paying ordinary people instead of couriers such as United Parcel Service Inc. for dropping of packages and parcels en-route to other places, according to individuals who have knowledge of the matter. Amazon has envisioned that the packages would be stored by brick-and-mortar retailers in urban areas, which could mean that the company will pay a per-package fee or for renting space.
The timing of the service that has been internally titled 'On the Way' hasn't been provided as yet and it is also possible that the company may not go through with it at all. No comment was made by an Amazon spokeswoman regarding this matter. This service could enable Amazon to get greater control over the shopping experience it provides and could also be beneficial in reducing shipping costs, which saw a 31% increase last year that was greater than the revenue increase. Furthermore, it would provide negotiating leverage that the retailer needs for dealing with large carriers.
However, there are still plenty of hurdles faced by the concept such as whether physical retailers will be interested in cooperating with a rival and how deliveries will be vetted by Amazon. In addition, the major carriers and shippers are quite efficient; it costs about $8 for UPS to deliver a package in the US. An average of 3.5 million packages are shipped by Amazon everyday so a lot of couriers would be needed for making a meaningful impact. Also, it remains unclear as to who will be responsible if the package is lost or damaged. According to analysts, it sounds like a good idea, but there are a lot of pitfalls.
For instance, people could simply take the package for themselves and not deliver them. If the plan is carried through, Amazon would simply become a part of some other firms that are using contract laborers for crowd-sourced delivery. Ebay, Google, Uber, Instacart and Deliv are also some tech companies that are using contracted workers for experimenting with same-day delivery to different degrees of success. In 2013, Wal-Mart, Amazon's rival had considered the idea of turning customers into package carriers. But, up until now, no one has succeeded in challenging the regional carriers and parcel-delivery giants.
A dizzying palate of options has been tried by Amazon itself. Bike messengers are employed in several US cities for its Prime Now one-hour delivery and it has also made an agreement with delivery firms for offering its Fresh grocery service on the same day. It is trying to take on UPS by building its own delivery network; Postal service makes grocery drop-offs early morning and make Sunday deliveries on behalf of Amazon. It is also working on aerial delivery drone for delivering parcels. Last year in San Francisco, Amazon had even tried using Uber vehicles for delivering parcels, which had cost $5, but it wasn't expanded.
comments