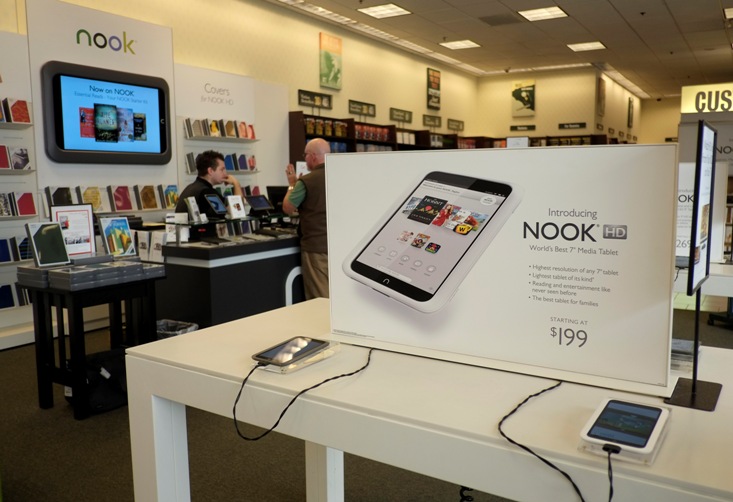 Microsoft Corp had stake in Nook Media LLC and Barnes and Nobles ended a two-year
partnership when it struck a deal to purchase this stake from the software maker. Now, the
bookseller is free to spin off its loss-making digital content division and e-reader. Because of
less sales of Nook devices, Barnes and Nobles reported that the quarterly profit of the company
was weaker than expected and combined with the end of pact with Microsoft, the bookseller
saw a 5.4% plunge in its stock price on the New York Stock Exchange. The value of the share
and cash deal with Microsoft was estimated by the company to be somewhere near $125
million.
Released in 2009, Nook may have had some success initially, but eventually ended up leading
to losses for Barnes and Nobles of hundreds and millions of dollars due to stiff competition from
the iPad of Apple Inc. and Kindle, manufactured by Amazon.com. $300 million were invested by
Microsoft in this Nook venture of Barnes and Nobles in 2012 as the former wished to take
advantage of the e-reader for gaining a foothold in the e-book market, which was growing
rapidly. Since September 9th, 17% of Nook Media belonged to Microsoft through preferred
shares.
In June, Barnes and Nobles said that had decided to focus more on its retail book business so it
would spin off the Nook Media business, including college bookstores. According to a
spokesman of Microsoft, the decision of terminating the agreement had been mutual. Even
though the deal means that the initial investment of the company will not be recovered
completely, it is still a good decision because the Microsoft wouldn't have to pay more for
funding Nook as these payments were costing the company about $21 million on a quarterly
basis.
The announcement of the agreement was made on Thursday and it dictates that Microsoft will
be entitled to receive about 22.7% of the digital business proceeds of Nook Media in case it's
sold in the next three years, excluding the college bookstores. 5% of Nook Media belongs to
Pearson Plc, which, in its second quarter of this year, had a revenue of $815 million. It was
stated by the company that it would purchase Microsoft's share in Nook with 2.7 million in the
form of shares and $62.4 million in cash. According to Barnes and Nobles, by August 2015, it
will be done with the separation of Nook Media, even though it had been expected to happen till
March.
It was further announced that retail sales of the company saw a decline of 3.6% and its total
revenue in the second quarter had reduced to $1.69 billion, marking a 2.6% decline. From $13.2
million, the net income of the company was brought down to $12.3 million, which came to 12
cents per share from 15 cents per share. It had been expected by the analysts that the company
would make a profit of 31 cents per share, but the results hadn't lived up to them.
comments