Play With your Favorite Celebrities With Flying Celebz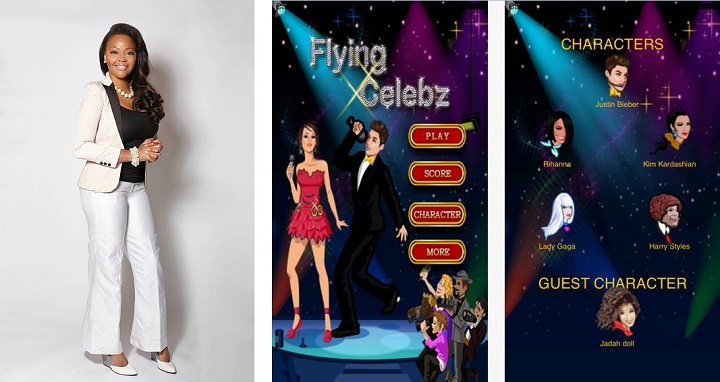 It isn't necessary for people to have knowledge of programming for creating applications that can be used on smartphones nowadays. With the tools and technology available today, it has become possible for a lot of individuals to create their own apps without having to take any major classes or obtaining a degree. In fact, even entrepreneurs are moving into the field of app developing, including female entrepreneurs. One such example is Natasha D Burton, who is a producer and an entrepreneur. However, she developed the passion of making applications, which has earned her the title of a mobile app enthusiast as well.
It was her passion that motivated her to spend hours with experts in learning how to create unique and fun applications for the Android app market and for iTunes as well. The application she made is called Flying Celebz, which as indicated by its name, is focused on celebrities. Natasha D Burton has worked in the field of entertainment so she is familiar with celebrities and she had also made some amazing shows previously. Her first successful show that aired on Television was Fame in the Family. This was also focused on celebrities in the manner that it shed light on the issues that could be created by fame and how it could have an impact on the family life of celebrities.
Download on Android | Download on iTunes
It was her love of entertainment and her undaunted attitude that enabled her to launch her own production company. She partnered with the Emmy Award Winning cinematographer, Ramy Romany and established the company known as NDB Production. Even now she is working on several projects related to the field of entertainment. Nevertheless, Flying Celebz is her first venture in the app market of smartphones and is one that's likely to grab the attention of most smartphone users.
It is a game that can get people to play for hours at an end until their smartphones complaining about low battery. It introduces them to the world of tapping madness again, so much so that they are unable to leave their phones and continue playing after plugging in the charger. The beauty of Flying Celebz is that it quite easy and simple to understand and play and is highly entertaining as well. There is a huge list of celebrities that can be found on the game, which makes it easy for people to find their favorite one and pick them.
Once you have chosen your favorite celebrity, you now have to start protecting them by tapping away. There are obstacles from which your favorite artist has to be protected and they are mostly in the form of huge microphones and hordes of paparazzi. If your celebrity is hit by the microphone, it means game over for you. However, the aspect of the game that makes it the most interesting is the fact that you can challenge your friends to battle with you. When you clear your obstacles by escaping the paparazzi and avoiding the microphone, you will be able to see your score go up.
As per Burton's professional website www.ndbproduction.com, another mobile app Pho-Mo, is going to be launched in November 2014 on both iOS and Android platforms. The app lets users capture moving images similar to a GIF but it allows users to add music, add text and even add their own voice! In addition it allows users to share them across social networks such as Tumblr, Instagram and Facebook.
comments