Use your Mobile Device with the Xbox One and PS4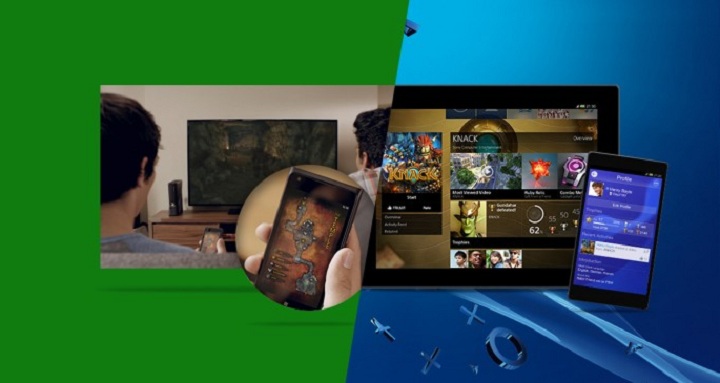 In the fall of 2005, the Xbox 360 was released and it was only a year later when the PlayStation 3 was launched. Back then, there wasn't a very huge concept of smartphones and companies like Nokia and BlackBerry dominated the smartphone market while gaming was split between PCs and consoles. However, when Apple released its first iPhone in 2007, everything simply changed. With the mobile revolution, there has been an immense change in the way we consume and share media and play games. Nowadays, everyone can be found with a cell-phone and its likely to be a smartphone.
Microsoft and Sony both wished to take advantage of this increased adoption rate of mobile devices due to which they chose to fine tune their mobile apps. These applications allow gamers to access various features of their consoles Xbox One and PS4 from their mobile devices and tablets. Microsoft has a SmartGlass app for its Xbox 360. The user interface can be navigated by gamers from the mobile device and they can even launch apps and games and also gain access to various social features such as friends, messages and achievements. The Xbox One SmartGlass app is different from that of the Xbox 360.
As compared to earlier versions, it is faster and much more stable. According to Microsoft, this is because the SmartGlass app had been kept in mind when the console was designed. Windows 8, Windows Phone, RT devices and Android users can get access to the app for free and it is also compatible with the iPhone and the iPad. The PlayStation app was released by Sony in North America in order to coincide with the launch of their console. When playing some particular games, it is possible to use this app just like Microsoft's SmartGlass as a second screen.
Apart from that, Sony's app also provides its users access to the PlayStation Store along with tutorials, various social features among other things. In Google's Playstore and Apple's app store, the PlayStation companion app can be found for free. It can be used with Android smartphones and tablets that are running on Android 4.0 or higher, the same requirement as that of Microsoft's SmartGlass app. Apple's devices such as iPhone, iPod and iPod that are running on iOS 6 or higher are compatible with the PlayStation app.
While applications of both Microsoft and Sony offer a multitude of features to the gamers, they will not be able to enjoy any of the facilities unless they are connected with the console itself. Therefore, there is a Connect options that can be found in both respective applications, which can be used for logging onto the console. Once the device has been added, gamers will be able to use their tablets or smartphones as a second screen if they desire and get access to the same features and options that can be found via other modes. Here' another post where you can read how to use Xbox One and PS4 with smartphone. This compatibility of the consoles with smartphones and tablets has proven to be immensely popular.
comments