The Ultimate Guide For Fitting a Full Workstation Into a Small Space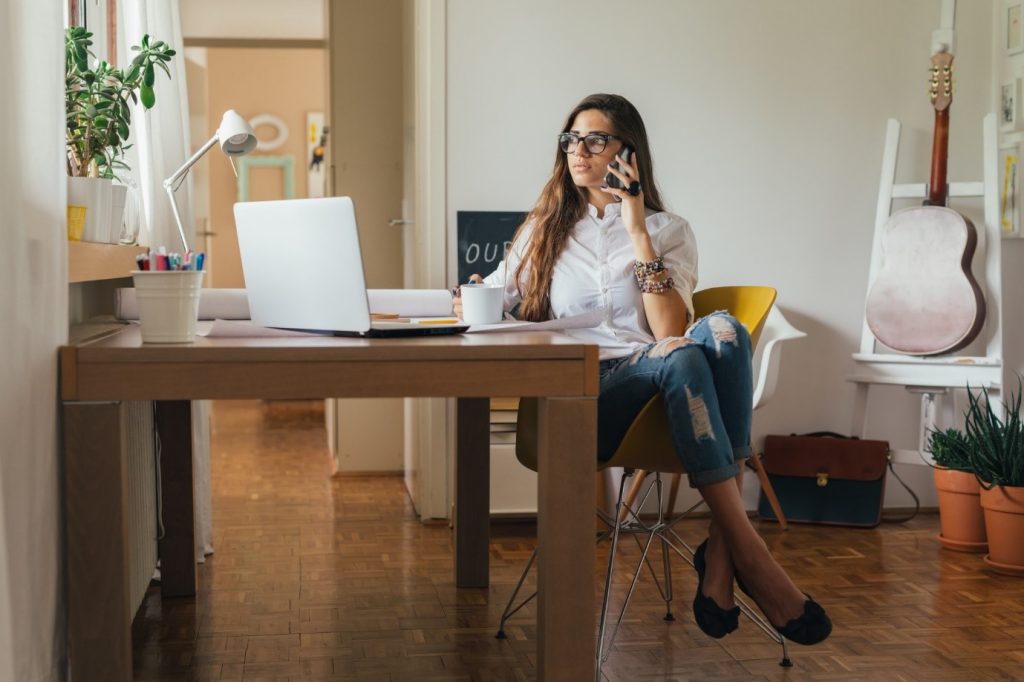 Forty-three percent of Americans work remotely at least some of the time. Many more self-employed people also work from home, while others often need some form of home workstation for studying, hobbies, or a side hustle.
Although, while we'd all love a sprawling home office complete with all the latest gadgets, the reality can often be a little different.  Many home workers have to make do with a tiny desk crammed into a corner of the spare room. Others share their home office with the washer and dryer. And no doubt, there are plenty of home workers using the kitchen or dining room table who can only dream of having a dedicated workstation.
But whatever space – or lack of it – you have, there are ways to make your home office work for you. Want to know how you can fit everything into a small home workstation? Keep reading to find out!
Find a Dedicated Space
In an ideal world, your home office would be a small room separate room that you can close off from the rest of your home.
If that's not an option, try to find a space you can use that's out of the rest of the household's way as much as possible. Converting a guest room into a dual-purpose space is a popular compromise. Since you'll be using your workstation more than guests will sleep in the room, opting for a day bed can free up floor space for your desk and chair.
Other options include carving out a dedicated space in the pantry, laundry room, or garage. And don't overlook the possibility of converting a small nook under the stairs, a cupboard, or a spacious closet into a petite but practical home office. Even a tiny space with just about enough room for a desk helps divide your work and home life. Although, if you're really stuck for space, a corner of your bedroom, living room, or dining room might have to suffice.
Make Room for a Desk
If you can't have a dedicated space for working, at least try to work from a desk rather than using the family dining table. Having to move your equipment out of the way at mealtimes is impractical and inefficient.
If you don't have enough room for a permanent desk, use a murphy desk. The best ones fold up into a cabinet for added storage options and optimal space-saving. This way, a communal room won't feel as cluttered, even if it contains your desk space as well as a dining table.
Before installing a regular or wall-mounted desk, you'll need to make sure it's the right height. After all, if you work from home a lot, an ergonomic workstation is a must for optimal comfort and performance.
The industry standard is 29 inches from the floor, but that's based on writing with a pen and paper rather than typing with a keyboard. Plus, you may need a higher or lower desk depending on your own height.
Instead, the best way to judge whether your work surface is the right height is to get into a typing position. Sit up straight and hold your forearms parallel to the ground. The tops of your wrists should then be level with the top of your forearms, leaving your fingers to dangle for typing. Bending your wrists can cause injury so getting this position right is key.
Use a Laptop Stand
Whether you have a work-issued laptop or a sleek, slimline model from www.lenovo.com, the portability of a laptop makes it a far better option than a desktop computer when you're pushed for space.
That said, you'll need to raise the screen for an ergonomic work station like the one you're used to in the office. A laptop stand is perfect for this purpose as it is adjustable, portable, collapsible, and easy to use. Most models are also compatible with all brands and models of laptops. They usually give you a lift of between six and twelve inches to help you avoid craning your neck while working.
For those of you who share your workstation with other people, it's easy to switch from one laptop to another and adjust the height accordingly. And, if you want to clear your desk or store everything away within a murphy desk or drawers, most stands fold down to a very small size.
Add a Wireless Mouse and Keyboard
Your laptop's inbuilt keyboard and mouse are fine for online shopping, streaming movies, and other personal uses. But if you plan on using a laptop stand at your desk, you'll need an external mouse and keyboard for optimal comfort when working.
There are now lots of options if you're looking for compact, space-saving wireless devices for your small home workstation. Not only do these add-ons take up little desk space, but their sleek design also makes them perfect for storing away whenever you're not working. And, since these devices prioritize portability and convenience, they're quick and easy to recharge and allow you to type and navigate in near-silence.
Choose a Comfortable Office Chair
Another key piece of furniture for any good home office is a comfortable chair. But, while home workstation design ideas can include a fold-away desk, your office chair will probably be more of a permanent feature of your home office space. As such, you might want to choose a chair that fits in with the decor of the room rather than an overbearing office chair.
Luckily, with more of a demand for attractive home office furniture, there are many options that combine both form and function. That said, there are some features that you shouldn't compromise on for the sake of a chair that fits with your room's aesthetic.
For an ergonomic home workstation, you should be able to alter the height of your chair to ensure you can sit on it with your legs at a 90-degree angle. An adjustable function also makes it easier to fit your chair under the desk at the end of the working day. Also look for a padded chair rather than a wooden or plastic model, as anything without padding will get uncomfortable after an hour or two. Wheels are optional but good lumbar support and armrests are important.
Consider Noise-Canceling Headphones 
If a little privacy is hard to come by in your home, noise-canceling wireless headphones are a must for your small home workstation. A good set of headphones keep distractions to a minimum for others when you're on a video call. But as well as this, they also help block out noise from other people.
With this in mind, noise-canceling headphones can help you establish boundaries between your work and home life. Even if you're not in a meeting, blocking out the sound of your family acts as a 'virtual closed door' on your office space, which is very usual if your office is in a corner of the same room. And, with fewer distractions, you'll be able to focus on your work and maintain a consistent level of productivity.
Set up a Tablet as a Second Monitor
If you're used to using two monitors at work, you can recreate this set-up by using a tablet in a portable holder as your second monitor.
Since these kinds of holders are made for travel, they are easy to pack away in a drawer whenever you're not working. And even when you have both monitors out on your desk, you'll find that you can work in a more efficient way without needing too much extra space.
As for the tablet, once you're done using it as a second monitor for the day you can use it for streaming Netflix in bed or any other entertainment purposes.
Banish Clutter with Smart Storage Options
As more functions move online, it's unlikely that you'll need bulky devices such as a scanner, printer, or a shredder. Although, if you do, it could be better to have these tucked away in another place such as a cupboard if your workstation is already a tight squeeze.
If you have a regular-sized desk, adding drawers underneath your workspace makes it easy to tidy away documents and accessories within easy reach for whenever you need them. If that's not possible, shelving above your workstation is a great alternative. You can then tidy your office essentials away in a box or closed folder for a more streamlined small home workspace.
As for those of you with a murphy desk, these often come with handy inbuilt storage sections such as shelving, cupboards, and small drawers, making fast and efficient storage a breeze.
Creating Your Perfect Small Space Home Workstation
Having big home workstation design ideas but a limited amount of space often means getting creative with everything from placement to accessories.
But, once you have a fully-equipped dedicated home workstation, not only will it be much easier to keep your work and home life separate, you'll also find that your productivity and motivation improve too!
For more tech news and tips, be sure to check out our other blog posts.
comments