Transfer Files from Android to Mac with SyncMate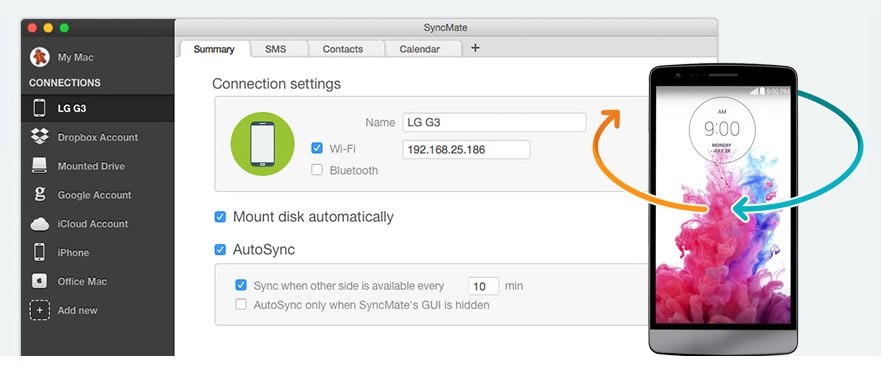 70% of the smartphones sold in the market today are running on Google's Android operating system. Yes, Apple's iPhone is undoubtedly a spectacular phone, but some people prefer to use Android based smartphones as you have a greater variety to choose from. Android smartphones are made by LG, HTC and Samsung so you have plenty of choice in shapes, color and design. While this works out really well for everyone, it can be a tad bit inconvenient if you are using Mac. Why? This is because sharing and transferring data from Android to Mac is complicated. Apple has placed restrictions on its devices for security purposes so it is difficult to make transfers.
Luckily, these days it is easy to find apps that can resolve your problems easily. If you are looking for an app that lets you transfer files from your Android device to Mac, you cannot go wrong with SyncMate. The beauty of this app is that it not only lets you Android file transfer Mac, but also with Google and Dropbox accounts. Of course, it can also support Apple-run devices and services such as iPhone, iPad and iCloud. You can find two editions of SyncMate; Free and Expert.
If you choose to get the Free version of SyncMate, you will be able to sync your Calendar and Contact entries between Android and Mac. This edition also enables you to sync your Dropbox and Google accounts. Furthermore, with this app, you will be able to read messages from your Android device directly on Mac. As far as the Expert edition of SyncMate is concerned, it can come in really handy for syncing your reminders, audio and video files, images and photographs and even separate folders. The options can vary for different devices. One of the perks of using SyncMate for your transferring needs is the AutoSync option.
This allows you to establish some parameters of automatic syncing for the device you choose to sync with. In addition, you can also sync files in real time, which means if you change data on your Android device or Mac, it will be immediately synced so you are just required to make the changes once instead of doing it separately on both devices. When you are using the Expert edition of SyncMate, you will be able to search, create, delete, send and export text messages from your Android device to your Mac.
Apart from that, this edition also allows the conversion of videos to MPG, 3GP, ASF, AVI, WMV and audio files to WAV and MP3 before syncing them to the device. You are permitted to perform the sync in several ways i.e. via Bluetooth, USB, Ethernet and Wi-Fi, but it can also depend on the device you are syncing with. The Free edition can be downloaded and installed without any cost, but the Expert edition of SyncMate is available for $29.96. You can download it today and start transferring your files from Android device to Mac without any problem.
comments