Twitter Introduces Periscope Live Video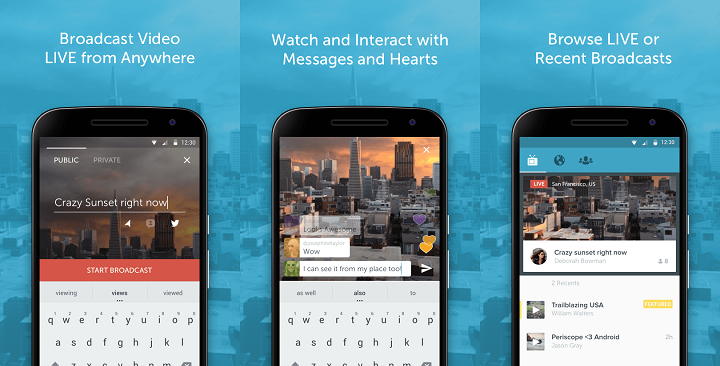 The most ironic fact about Twitter is that it has touted itself to be the place where you can 'see what's happening right now' and yet live video feeds have remained absent from its website, even though they are the most ideal way of keeping up with current events. For some mobile users, this will now change from Tuesday onwards as they will have the opportunity of watching live broadcasts on sister app Periscope, which will be available in Twitter news feeds. A sense of real-time awe will be incorporated in the social media service thanks to the addition of the new feature.
With this move, the Periscope will be introduced to millions of users worldwide and will also keep most of its content on Twitter. Up until now, the only thing that Twitters users had been able to do was link Periscope broadcasts on the separate app. Twitter purchased the app early last year and it has proven to be popular amongst millions of social media users because of its ability to help them in broadcasting their surroundings easily from their smartphones. In the 10 months since the launch of Periscope, more than 100 million live broadcasts have been posted on it.
Initially, the integration with Periscope will only be available to users of the Twitter app on Apple mobile devices. This means that iPhone users will have the opportunity of watching live broadcasts and will also be able to replay previous ones until they expire. The broadcasts that will be posted on Twitter will not just show the comments made by people, but also floating hearts, which is a colorful animation that acts as the 'like' button on Facebook. These hearts are a Periscope trademark and appear when users tap their screen in approval after watching a broadcast.
This integration was bound to happen. In early 2015, Twitter had purchased Periscope before it was even launched and the two have been working together ever since. When a broadcast is started by Periscope users, this broadcast can be shared by them or other viewers through their Twitter accounts by providing a link to the broadcast. This integration is a big deal for Periscope broadcasters as they hope to gain additional viewers with Twitter's assistance. Some of the users of this app include journalists, politicians, celebrities and also the cult of social media stars. As of August, the number of accounts on Periscope were about 10 million as opposed to the 300 million users of Twitter.
The benefit to Twitter users is that they don't have to leave their news feed for watching interesting content. They can directly watch broadcasts via their Twitter news feed. Such content is definitely in accordance with the preference of users for coming across more videos and images and less text. However, there is also a downside of these broadcasts; users can become annoyed if these turn out to be duds. Nevertheless, this integration can prove to be immensely valuable for advertisers as they can now replace links with actual broadcasts on Twitter.
comments