Shipt App: Convenience and Simplicity Combined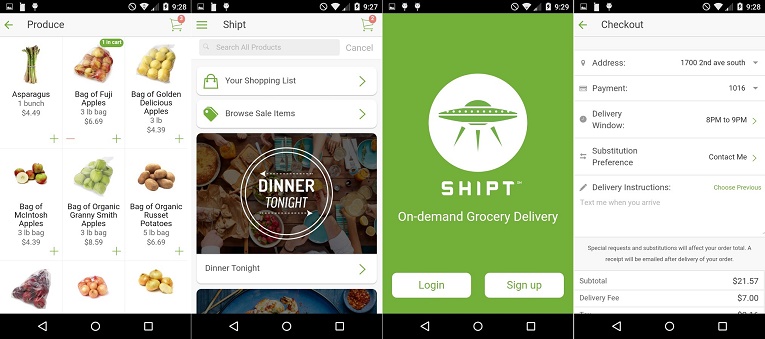 A grocery shopping experience isn't exactly a pleasant one for most people. Who likes controlling their cart in a crowded store or standing for hours at the checkout line? Not to mention the traffic you have to deal with. Who wants that? Wouldn't you want to spend that time doing something else? With Shipt, you can now reduce the hassle and problems associated with your grocery shopping run. All you need is your smartphone and the Shipt app and you will no longer have to worry about going out for groceries or cooking supplies. Shipt is basically an on-demand grocery delivery service that can provide you with quality groceries at your doorstep.
You just need to go to the Shipt website, download the app and start picking out the things you want. You can find a huge variety of items at your disposal ranging from beauty and healthcare items, pet care, cooking supplies, specialty food items and fresh produce amongst others. You have to pay a nominal delivery fee and whatever you purchase will be delivered at your desired address. You can also try Shipt free if you aren't sure of how it works. You can sign up for a free account as new users are being offered a $10 free credit by Shipt.
This means that you don't have to spend any money for trying out the service and getting a hang of it. There is no minimum delivery amount when you are ordering on Shipt, but a $7 delivery fee is applicable for your order if it is below $35. You can also sign up for MemberShipt, which earns you two-way referral bonuses and rebates when you invite your friends to the service. However, bear in mind that you can only earn the bonus if the referral codes are used by your friends.
When you become an annual member at Shipt, you can enjoy a lot of benefits. You are just required to pay around $99 annually and you can enjoy free delivery for groceries all year round. If you are simply a beta tester for Shipt in a new city, you can take advantage of a promotional offer that provides you with 50% discount. This is a win-win offer for you as you can save a lot of money that you would otherwise spend on gas and time that would be spent on parking and trip to the store.
Shipt also provides you with the freedom of ordering as many times as you want in a single day. In addition, you can also get groceries delivered for your friends and family as long as you enter the right address. A special delivery can also be scheduled along with chocolates and flowers if you wish. There are a variety of payment options available to you such as Apple Pay, PayPal and most major credit cards. Hence, with the Shipt app, you can benefit from simplicity, convenience and time and get all your desired grocery no matter where you are.
comments