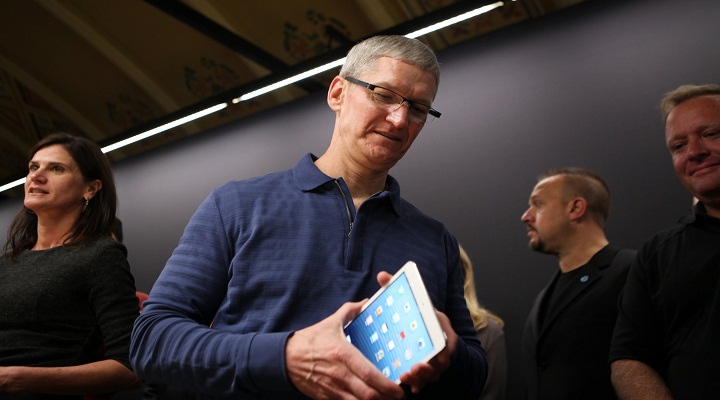 Tim Cook, the chief executive officer of Apple Inc. used the term 'opportunistic' for characterizing the company's decision to repurchase their stock worth $14 billion over the past couple of weeks. It wouldn't have been possible for him to say it in any better way. There are chances that you would have thought that the company is in possession of more stock than it needs. In some ways, this fact is absolutely right while in some other ways, it actually turns out to be dead wrong. It is very much possible that the stateside coffers of Apple Inc. might be a little bit light right now in comparison to the historical horde the company has had for the past couple of years.
This is due to the fact that the iPhone maker can only use its domestic cash for share repurchases and dividends alone. At the end of 2013, the domestic cash position of the information technology giant totaled about $34.4 billion. A notable chunk will be taken out from this total because of the $14 billion share repurchase that has been recently made by the company. The bill will certainly be covered by the domestic operating cash flow of the Mac maker, but it is difficult to quantify that figure. An approximation can be made by investors by taking a look at the total domestic cash flow of the company.
In 2012, in the six months before the company initiated its capital return program, an average of $3 billion per quarter had been added by the company to its domestic stash. For the past several quarters, there has been a constant decline in the company's domestic cash pile and this is mostly because of its dividend payouts and aggressive share repurchasing activity, which were about $7.8 billion in the last quarter. Last year, in a single quarter, a hefty $16 billion of its own stock had been purchased by the company.
Of this total, the company had used an accelerated share repurchase program worth 12 billion and $4 billion had been spent in the open market. This was back when the share price of the company had been $450 and this had been regarded as a little too cheap. Just like last summer, another accelerated share repurchase program had been conducted by Apple to purchase $12 billion in stock, apart from the $2 billion purchases in the open market. Last year, when Apple had conducted this program, its domestic stash had only declined by $2 billion.
But, this time, there is a huge drop in cash because of debt. Last year, $17 billion had been issued by the company in bonds in order to prevent the need of having to tap its foreign cash reserves. Nonetheless, Apple still has $18 billion left for its current share repurchases authorization, but investors should also expect that Apple will inevitably need to issue a lot more debt if it wishes to fund the buybacks that it wants to make. The only question is when will it do so.
comments