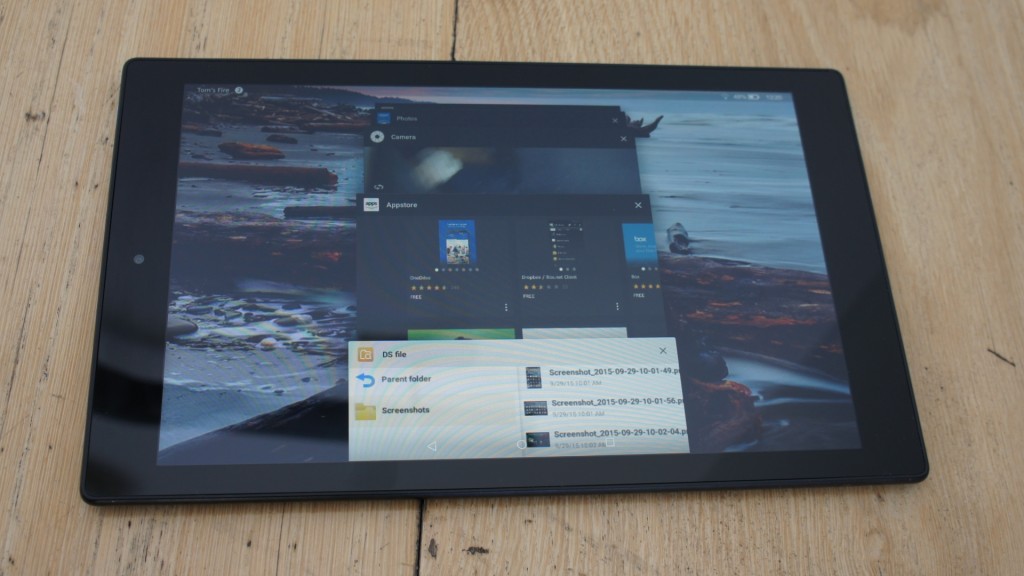 The low-cost Fire tablet range from Amazon finally has a big daddy; the Amazon Fire HD 10. As compared to most of the modern tablets that are available these days, the Amazon Fire HD 10 has a larger display that offers you 1080 resolution and is ideal for people who like to get their TV fix on their own rather than with the family. While the 10-inch might make it a bit uncomfortable for you to use it outside when you are on the bus, it is a great option if you are looking for a tablet you can use at home for your video needs.
To make access easier, Amazon has chosen to put all the primary sockets and controls along one edge, which is the top one, and this makes things a lot more convenient. The screen is the biggest improvement you will notice as the 1280 x 800 resolution is now gone and replaced with a perfect and clear 1080p display. You can enjoy decent viewing angles thanks to the IPS panel and the colors you see on the screen are bright and nice. The movies you stream from Netflix or Prime Video look spectacular and the text in Kindle books is also sharp and crystal clear so you can read comfortably for long periods of time.
Similar to other tablets of the Fire range, the Amazon Fire HD 10 is also powered by the Android operating system, but it doesn't feel or look like one at all. This is because the Fire OS is used in this tablet, which means that only the core building blocks of Android are incorporated and everything else has been replaced with parts provided by Amazon. Therefore, you may not have a lot of flexibility in terms of layout customization. There are a series of pages similar to a home screen-style. One of them is for all the stuff that comes preinstalled and separate ones for every main tablet content area like video, music, apps and books.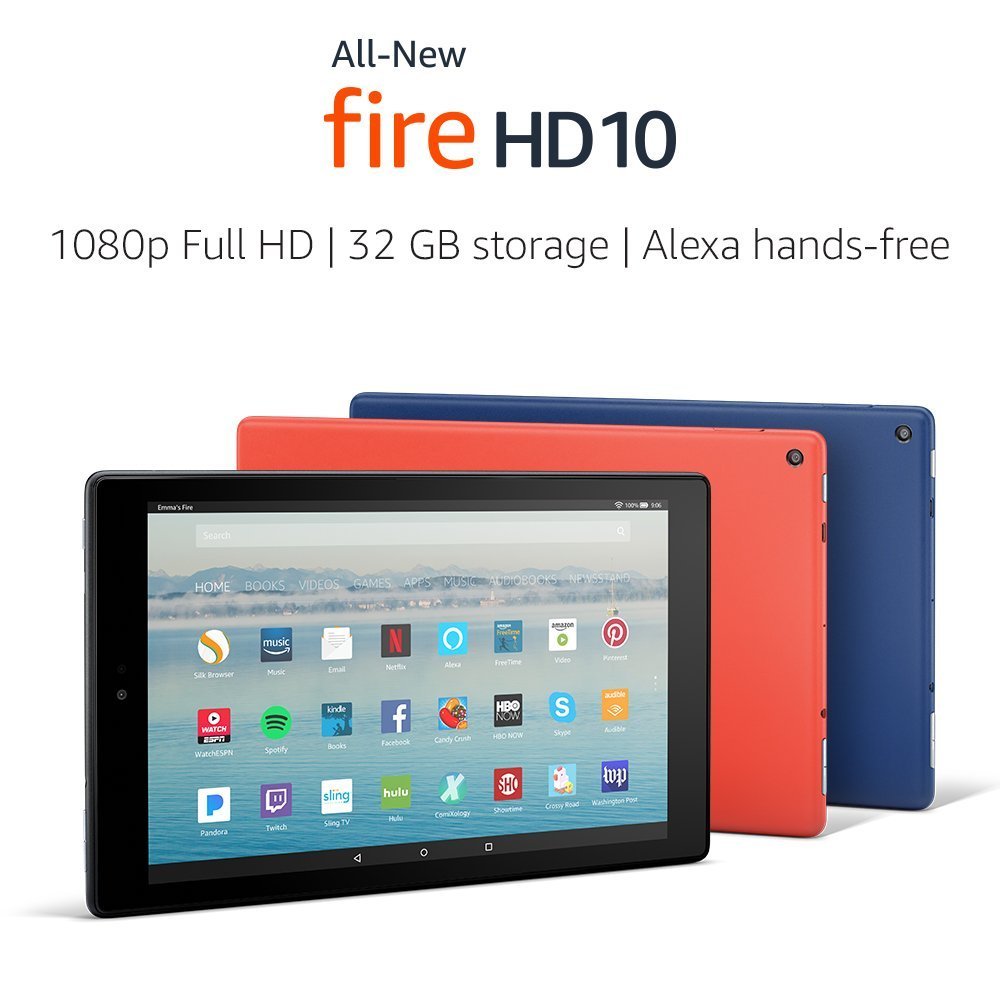 As opposed to Android, you get a lot more space for your content and apps that you eventually download instead of space for those you have already downloaded and this is how the Fire OS works. Its aim is to keep you downloading round the clock. It is important to bear in mind that Google's app suite including Google Maps, Google Calendar and Google Play are not available on the Fire HD tablet. Instead, you are offered services from Amazon such as the Amazon Prime Video. This is basically a Netflix-like service that's part of the Amazon Prime subscription.
Another positive addition in the tablet is Alexa, which is the personal assistant developed by Amazon and is featured in everything these days, from TV dongles to speakers. It is one of the top assistants out there and has been a very notable addition to the Fire tablets. In this tablet, it is possible to engage Alexa hands-free. All you have to do is just say her name even when the tablet is turned off and she will respond.
Previously, there have been some complaints about Amazon Fire tablets regarding their performance, but things have been greatly improved in Amazon Fire HD 10. The 2 GB of RAM and the MediaTek 1.8GHz quad-core CPU does an excellent job of handling the majority of apps and the visually heavy interface of the tablet. The 'Dolby Audio' is another addition that has been made to the 2017 model, which promises amazing speakers and sounds. The audio quality and volume is enhanced and the sound is even better when you use earphones. There is a standard 32GB model available, but you can also upgrade to the 64GB option if you want more space.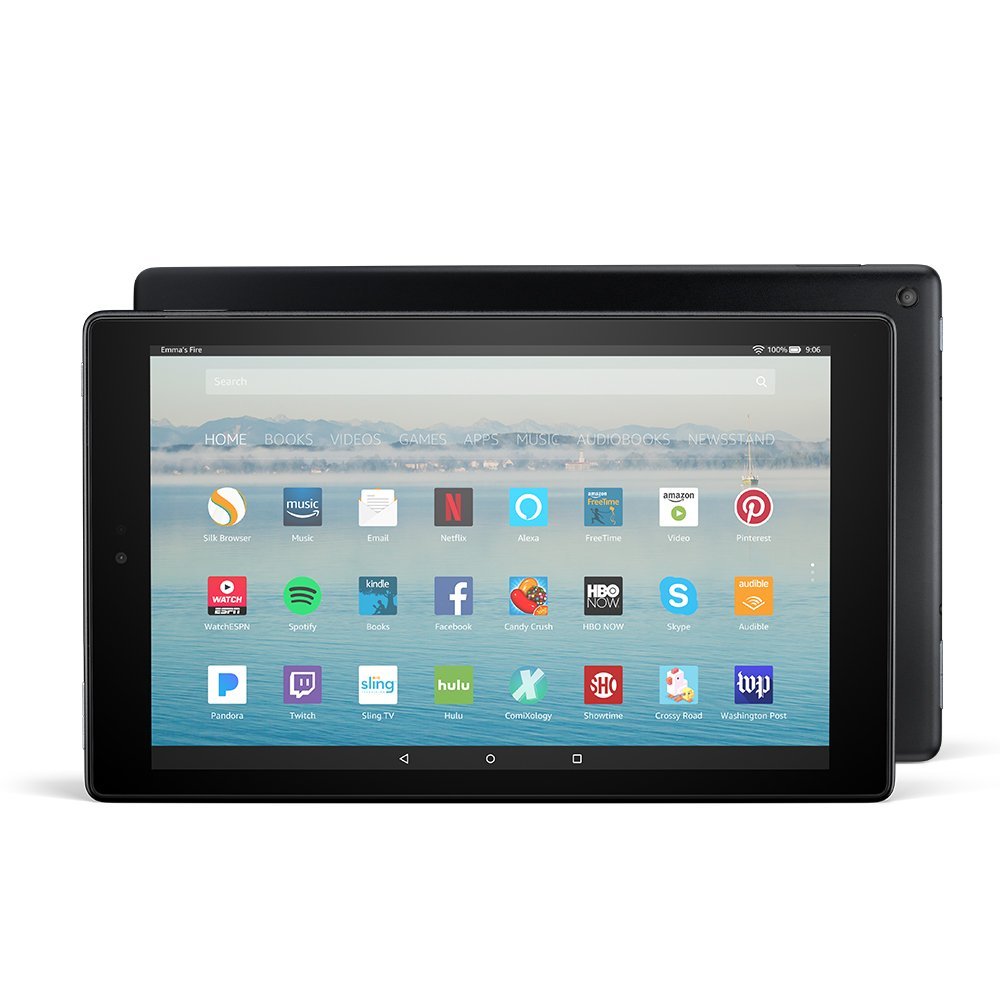 If you don't want to pay extra for the space, you can just invest in a microSD card as it supports this option. There is a 2 megapixel camera on the back of the tablet and a VGA one on the front, but there is no special tech involved so this might be a bit of a disappointment to some. However, considering the $229.99 price tag, it is a pretty good deal, especially because the camera software is much smarter. You are provided with an HDR mode and it also tells you when it is a good idea to use it such as when light conditions become challenging.
The battery life is definitely something to write home about. Once you have charged your Amazon Fire HD 10 tablet, it is going to last for about 10 hours. If you are streaming video, you can easily enjoy about 8 hours of battery and even more if you reduce the brightness to less than 50%. Hence, those looking for a durable and affordable device for consuming the vast array of content on Amazon Prime will find this an excellent option.
Amazon Fire HD 10 Review
Summary
As compared to most of the modern tablets that are available these days, the Amazon Fire HD 10 has a larger display that offers you 1080 resolution. Read more in this complete review of the device.
comments