9 Successful Ways to Increase Your Web Traffic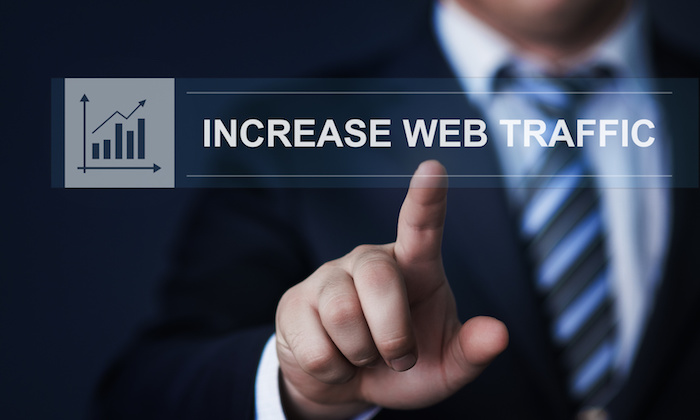 There is more to running a website than offering a great product and an excellent user experience. You must actively take steps to find and encourage visitors to your website; otherwise, they may not be able to find you. Check out the nine successful ways you can increase your web traffic.
Regularly Review Your Web Traffic
Ensure you have Google Analytics set up so you can view your website's key metrics, such as:
Pageviews
Unique visitors
Pages per visit
Bounce rate
Average time
Traffic sources (search, direct or referral)
Exit pages
Measuring the traffic will allow you to manage your website effectively. For instance, you can try various traffic strategies and can identify their impact in Google Analytics, so you will know if something is working or whether you're wasting your time.
A Solid Content Marketing Strategy
The one thing letting your website down could be your content marketing strategy – or lack of it. If you do have one, a lack of traffic might be due to writing the wrong content.
Content is a sure-fire way to drive visitors to your website each day, so don't underestimate the power of high-quality blogs. If you want your site to be a success, you must take the time to write engaging content that can boost your brand.
There are various types of content you can incorporate into your website, such as:
Listicles
How to articles
Guest blogs
eBooks
Videos
Case studies
Infographics
Podcasts
Try to create a mix of the above content types, which could drive a considerable amount of traffic to your website. Don't forget to keep your eye on Google Analytics to spot which article the traffic is coming from, too! This will allow you to identify the best content marketing strategies for your site.
Also, when writing the content, you should consider your business goals. For instance, what are your website's primary goals? To increase traffic? Generate leads? Boost your conversion rate? A business goal will allow you to shape the content to suit your business needs.
Yet, don't act too much like a salesperson. Every article should be written with a visitor in mind, as you should aim to answer any questions they may have via your content.
A Compelling Blog Headline
Compelling headlines encourage your target audience to read your blog, and they also can boost your rank in the search engine results pages.
Yet, there's more to it than writing a catchy title. They must be optimized for both social and search traffic. For instance, they need to be the right length and incorporate keywords, but they must be compelling enough for social media users to want to click on the article and visit your website.
Use Google Keyword Planner to discover the best keywords for your website. Consider the type of article you want to write, and type it into the Google Keyword Planner to discover keyword variations that suit your content and can potentially increase your ranking.
Use High-Quality Photos
Incorporate high-quality photos into every article, as they can grab a reader's attention when promoted on social media and will encourage web traffic. Eye-catching images ensure a reader also stays on a site much longer, and it helps to support insightful content. Combining well-written articles with high-quality images will give a post the best chance of success, and can encourage visitors to browse your website further. It will also make your website look clean, trustworthy and user-friendly.
Optimize Your Images
Don't just add a photo to a blog and leave it there. You must ensure it is SEO-friendly so it can boost your rank and drive more traffic to your website. Click here to discover the best ways to optimize your website visuals, from title tags to your image sizes.
Internal Linking
Internal linking is the process of adding links from one web page and hyperlinking it on another page on your site. For instance, you can link an old blog post within a new article, or can add a landing page to help a user easily navigate their way around your website.
Many websites are failing to internal link, and you can guarantee they are paying the price for it in their Google ranking. This process can increase your search rank, improve navigation and can help define a website's hierarchy.
The best way to add more internal links to your website is by using the right anchor text and publishing more content. Also, ensure only to link to relevant content that'll aid the user experience. Don't internal link too much, either. Aim to incorporate between 5 to 10 internal links per 1,000 words.
Start Sharing on Social Medium
Did you know that social media drives 31% of all web traffic? As a result, it has been deemed the number one driver of website referral traffic, which means it would be foolish not to use the powerful platforms to your site's advantage. Every blog should be shared on the likes of Facebook, Twitter and LinkedIn to drive as many visitors as possible to your site.
Ensure every social media post features a high-quality photograph, a clear and engaging description and has an attention-grabbing link description underneath a photo.
Content Outreach
Once you have optimized your website and are posting on social media, it's time to take your site to the next level with content outreach. This will allow your site to reach a whole new audience and can drive a significant amount of traffic to your landing page. You can consider contextual targeting for this purpose. Netotraffic can be helpful for you in this regard.
Showcase your brand by having your content republished on a large publication or high authority website. Not only will this result in many more unique visitors, but you will also benefit from the high authority website's link juice, which can result in an improved rank in the search engines.
Write Guest Posts
Guest posting is also another effective outreach strategy that can improve your SEO rank and, in turn, can boost your web traffic. Feature unique articles on other websites by developing a solid outreach strategy. Write an email template that introduces who you are, what you do and why you want to feature on a website. You could also provide article ideas that prove you understand their brand and blog, which could convince a webmaster to publish your article.
Do you have any tried and tested strategies for improving web traffic? Write a comment below.
comments