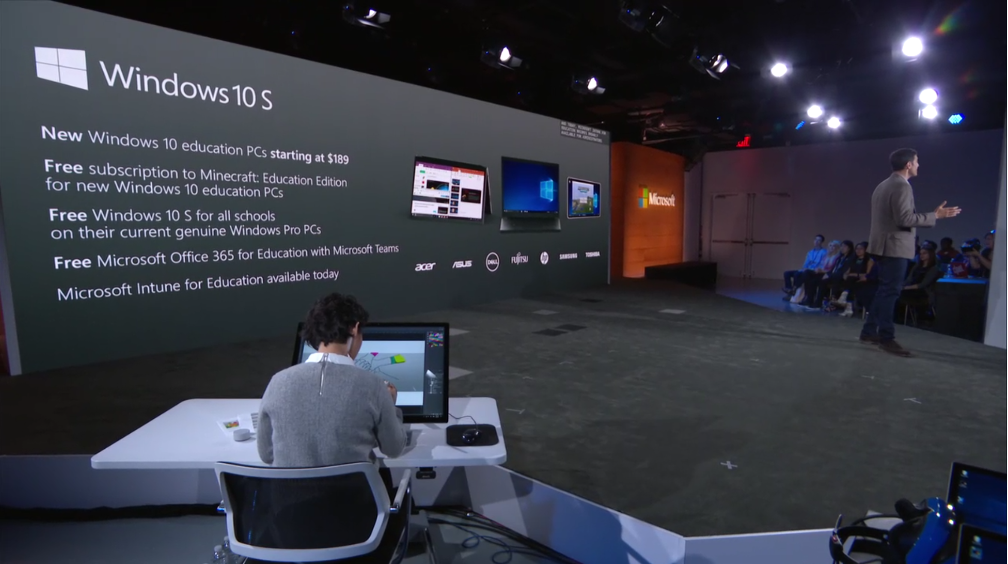 A new and locked-down version of Microsoft's renowned operating system has been introduced along with a new premium Surface laptop, both aimed at the education market. The latter has been launched as a bid to challenge Apple's premium MacBook Pro as well as Google's popular Chromebooks that seem to be the top choice of students these days. Features of Surface Book and Surface Pro can be found in the new Surface laptop such as a 13.5-inch screen and a fabric-covered, colored deck. The 2.76lbs and 14.5mm thick laptop will also boast a mini DisplayPort, standard USB-A port, a headphones socket and most importantly, Microsoft's proprietary power connect that enables it to dock with Surface accessories.
However, the Surface laptop is without the newer USB-C, which has become the norm for computers and smartphones. The corporate vice president for Surface, Panos Panay challenged Apple's dominance in the premium-laptop market outright by stating that they had built a beautiful laptop that would last for the students from the first day till the day they walk on stage for collecting their diploma. It was further highlighter that the new laptop is thinner and lighter and faster than any MacBook Pro or MacBook Air available currently and it also has a longer battery life.
The new device will run Windows 10 S out of the box, but users can choose to upgrade it to Windows 10 Pro if they want. In addition, the Surface Laptop is available in a variety of colors and boasts 1TB of flash storage and the latest Intel Core i5 or i7 generation processors. With 4GB of RAM, a core i5 processor and 128 GB of storage, the Surface Laptop will cost $999 and will be available for shipment from June 15th onwards. While the Chrome OS introduced by Google is based around its browser, the Windows 10 S is essentially a complete version of Microsoft's operating system.
However, the new operating system doesn't allow apps to run the traditional way; instead, it will only support apps available in the Windows Store. According to Microsoft, this lock-down approach is a good thing as it will aid in maintaining the stability, security and speed of computers running on Windows 10 S. The operating system will behave like other Windows 10 editions for the most part and it also offers support for games. Furthermore, you can use the BitLocker encryption system and the digital inking stylus systems in it as well.
A variety of tools will be supported by Windows 10 S and they will make it easier for people to manage a collection of machines, even for educational institutes that don't have dedicated IT managers. In addition, the full Office Suite of programs, which comprises of Word, Excel and PowerPoint, will also be available in the Windows Store this summer. This means that all Windows 10 S users will be able to run it on their device without any hassle. This software is crucial for a large number of Windows users, especially students.
comments