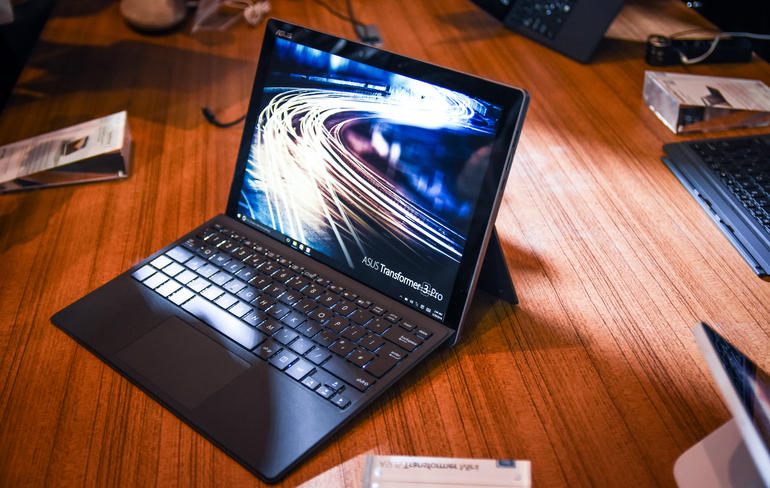 Microsoft's Surface Pro turned out to be a huge success so it is not surprising to see that there are imitators in the market. Dell, Acer and HP have all taken a shot and have launched their own versions. But, there was one brand that remained absent from this category; Asus. It built plenty of 2-in-1 devices, but it has stayed away from keyboard covers and kickstands in favor of swing-hinge designs or full dockable keyboards. They looked nothing like the Surface Pro, but the company has chosen to change its strategy in the form of Asus Transformer Pro 3 as this device embraced the kickstand.
Similar to Microsoft's 2-in-1, Asus's take on the Surface Pro is in the form of a button-down machine. Dark charcoal colored metal is used for the model, which also includes a dark grey keyboard cover. This is completely different from Asus's typical design, which has a subtle flash most of the time. The Transformer Pro 3, on the other hand, is completely business and it is the closest device that has managed to mimic Microsoft's design. The hard edges, tough metal case and cooling vent concealed on one side of the tablet part bears strong resemblance to the Transformer Pro 3.
As far as thickness is concerned, Asus's machine is nearly identical at 8.35 millimeters, which is one-tenth thinner than Microsoft's creation. There is also a 'stepless hinge' kickstand, which can be flipped out to any angle as it has a rotation of 170 degrees. In a nutshell, it operates in the same way as the Surface Pro 4. Yet, the machine also has differences, especially in terms of display size. The Transformer Pro 3 has a 12.6 inch screen while the Surface Pro 4 has a 12.3 inch screen. The only problem is that this add bulks to the Asus device, even more than Dell and HP's versions.
The touchscreen boasts a 3:2 aspect ratio and it has a 2880×1920 resolution. This means that it has about 274 pixels per inch and this is slightly higher than that of the Surface Pro 4. The good thing is that it is not just pixel density where Asus has chosen to kick it up a notch. They also claim that the display has the capability of showing about 121% of the sRGB gamut. However, spotting the difference is going to require a closer look because at first glance, it looks beautiful and crisp, but not different than others.
The internals are similar to what you would expect a classy device to have. The processor selection goes up to Intel's Core i7 with about 16GB of RAM and 1TB of data storage. Just like the Surface Pro, the keyboard cover of the device flips over the screen to provide protection from scratches and make transporting it easier. Typing is also made easy and the feel of the material is superb. As far as pricing is concerned, Asus said it will be around $1000, which is justified with the improved specifications.
comments