Apple Manufacturer Foxconn Bids on Sharp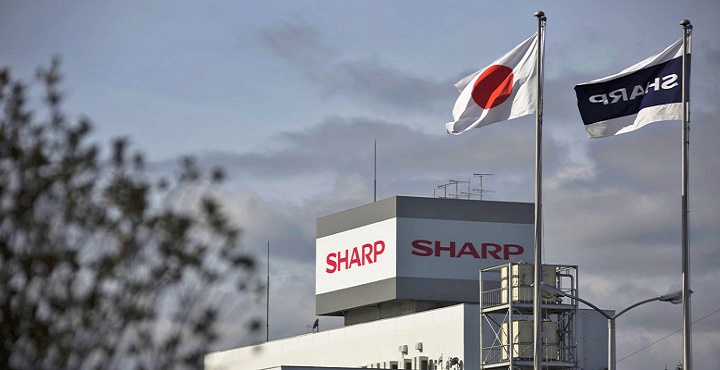 The Taiwan-based company that assembles a huge majority of the world's iPhones, Foxconn has made a bid worth $5.3 billion for Sharp. Corp. According to people familiar with the matter, Foxconn is more than willing to take on the troubled Japanese electronics maker. A competing offer has also been made by Innovation Network Corp, which is based in Japan and is an investment fund backed by the government. Sharp has been bailed by banks repeatedly in the past, but will now review both offers. Sources had indicated that Sharp was considering an offer worth ¥300 billion, which is less than the ¥625 billion offered by Foxconn.
However, it remains unclear whether the bid by INCJ would require any concessions from the electronic maker's main creditors. There have been some concerns amongst Japanese officials about letting foreign companies take control of Sharp and they have cited the technology in display panels as a reason for their concern. A controlling stake is already owned by Innovation Network Corp in Japan Display Inc., which is another display maker. According to officials, the two display-making companies share know-how in mass production and display panel-making technologies. Motoo Hyashi, the industry minister said that Japanese technology was leading the world and they wish to make it more competitive.
Although Tokyo officials would prefer INCJ to take over Sharp as this would ensure the control remains in the country, more money is being offered by Foxconn, which formally known as Hon Hai Precision Industry Co. People with knowledge of the matter said that Foxconn is also willing to share the burden of the company's debt. The purpose of these conditions is to encourage Sharp's creditors into making a decision regarding the deal based on its economics rather than the political considerations involved. The electronic maker has a March due date for repayment of a loan worth ¥510 billion.
Amongst the name of its creditors are two banks, Mizuho Financial Group Inc. and Mitsubishi UFJ Financial Group Inc. and the firm owes them somewhere between ¥500 billion to ¥600 billion. Sources familiar with the offer by Foxconn said that the iPhone producer had no intention of replacing the top management. This tactic is meant to assuage worries of Japanese officials regarding a foreign takeover. It was further said that a decision would be taken by Sharp and its creditors by Feb 4 when the company is scheduled to announce its quarterly results.
Sharp specializes in making everything from solar panels to televisions to display panels for the iPhone maker. Nonetheless, in May 2015, the Japanese electronics maker had to turn to the two banks for rescuing it the second time in three years. The company suffered a net loss worth ¥222 billion in the fiscal year ending on March 2015. Since then, the conditions have only worsened. In the most reason half-yearly results, Sharp reported an operating loss of ¥25.2 billion and cited the deteriorating Chinese demand for smartphone displays. Foxconn had considered buying a 10% stake in Sharp in 2012, but the deal had unraveled in 2013 due to dismal earning reports.
comments