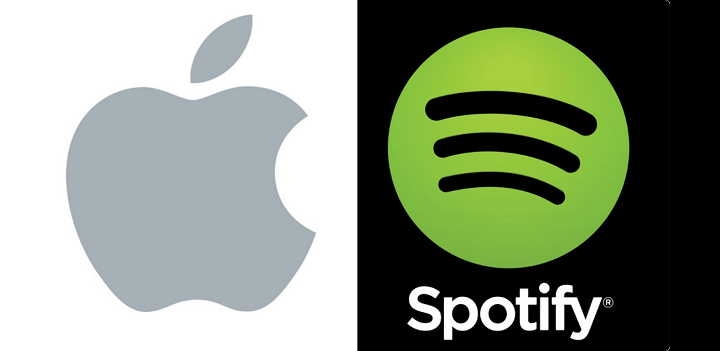 Tensions are coming at a head in the music industry just before the expected launch of Apple Inc.'s music streaming service later this year. According to a recent report, it is the opinion of most sources in the music streaming business that the iPhone maker's App Store is rather anti-competitive. 30% of all sales made through the App Store are taken by Apple and this is applicable to everything whether games, subscriptions, in-app purchases or shopping. Therefore, any streaming service that's dependent on paid subscriptions has to give 30% of what it receives to the American tech giant.
The recent report showed that it was believed by Spotify and other streaming services that this anti-competitive policy of the firm gives it unfair advantage over the competition. Based on the $3 billion acquisition made of Beats by Apple Inc., it is expected that the smartphone giant will introduce a music streaming service this summer. The problem is that this launch will make things quite difficult for its competitors in terms of price. There have been complaints about their 30% take. Some agreed that an administration fee was required, but in their opinion, the rate Apple charges is over the top.
Another source said that Apple has an advantage over others because they control iOS and they are attempting to engineer the music industry according to their specifications, which may not appeal to everyone. While no comment has been made by Apple, there could be some legal complications for the firm in this regard. Already, the company's move into the music streaming industry has come under scrutiny from the US Federal Trade Commission (FTC). As per a previous report, it was rumored that the firm was pressurizing music labels to force other streaming services to abandon their free tiers.
This move would benefit the iPhone maker to a huge extent when it launches its Beats service, but has opened up the company to allegations of anti-competitive behavior. It is worth noticing that Apple isn't the only one against the concept of free music streaming as stars like Taylor Swift have also expressed their displeasure. Swift even pulled her songs from the free tier of Spotify in protest. The labels themselves aren't very pleased with the notion as Doug Morris, the Sony Music SEO said that this 'free' music streaming could eventually contribute to the overall decline of the music industry.
Other stars have decided to take matters in their own hands such as Jay Z who launched his own streaming service called Tidal, along with some other singers. However, the fact remains that just because Apple has sentiments of the broader music industry doesn't mean that the pricing model it uses isn't potentially anti-competitive. The newly-launched Tidal music streaming service was already forced to boost its prices by 30% via its iOS app for offsetting the charges that have to be paid to Apple Inc. It remains to be seen if any action will be taken against the Cupertino-California based company regarding its pricing structure.
comments