Everything You Need To Know About Video Conferencing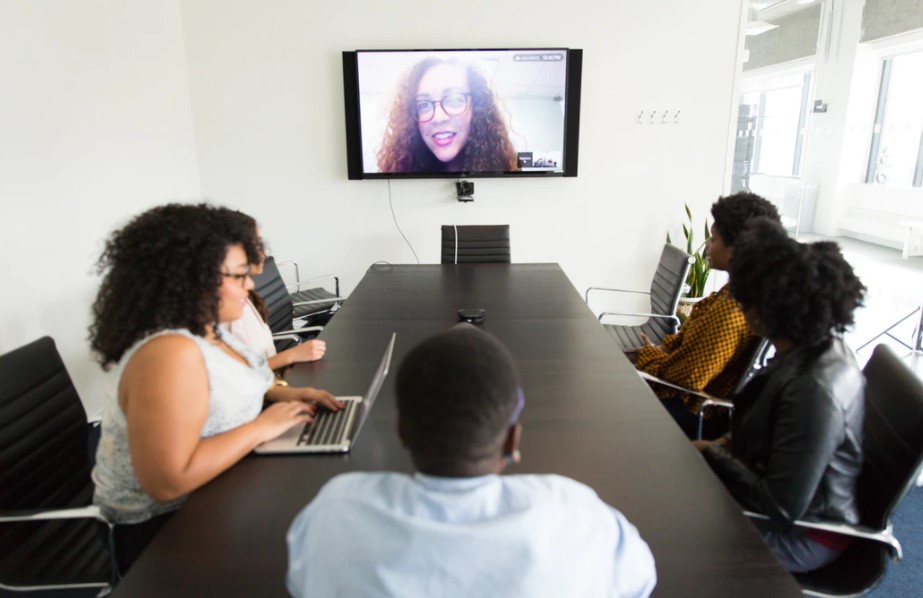 Companies of all sizes have meetings to discuss business issues. But not always and not all employees have the opportunity to attend them personally, then the business has to organize remote meetings. In these cases, companies need to set up video conferencing to improve the efficiency of internal communications.
This topic has become especially relevant during the pandemic when many companies were forced to switch to remote work, which sharply increased the need for high-quality video communication for internal communication and interaction with customers.
Here's what video conferencing is and why your business needs to set it up right now.
What is video conferencing
Video conferencing is a technology that allows two or more people to communicate through audio and video broadcasts in real-time, regardless of their location.
Video conferencing is built based on IP protocols and takes place via the Internet or a local network of the company. Participants see and hear each other in real-time, and this technology also allows you to exchange data and process it using collaboration tools.
Types of video conferencing
Video conferencing is classified according to various criteria. For example, by the number of participants, it can be:
Personal – 2 conference participants.
Group – more than two participants.
The following types of video conferencing are distinguished depending on the purposes of communications:
Video conferencing. All participants in the video call have the same rights, cameras and microphones are on. In business, it is commonly used for department meetings, product demonstrations, communication with customers and partners, etc. This type of video communication is the most common.
Online lecture. In this type of communication, as a rule, only one user has the camera and microphone enabled. He can also enable screen sharing. For example, distance classes at the university can take place in this way, when students with turned off cameras and microphones see only the teacher and the material provided to them. And he, in turn, can control the presence and involvement of students.
Telepresence. These are kind of virtual offices – interactive rooms where employees enter at the beginning of the working day, turn on the camera and work with the feeling of being in the office in a familiar environment.
Webinars. A group type of communication in which there is one presenter with video and audio turned on and an audience that does not have cameras and microphones connected, but which can communicate with the presenter via chat. Webinars are suitable for company product demos or lectures.
Selector video communication. Video conferencing, in which there is one organizer who controls the meeting: turns on or off the microphones of certain participants. With the help of selective video communication, employees usually communicate on scheduled calls, when the manager interviews subordinates.
Benefits of video conferencing
Closeness to reality. In the case of telephone communication or messengers, the participants do not see each other. The videoconference format is similar to a real meeting, which helps to concentrate on resolving issues.
The possibility of participation of a large number of people. During negotiations, video conferencing allows you to connect hundreds and even thousands of participants for large-scale events.
Saving time and money. Video conferencing allows employees to minimize travel time to meetings or business trips. Negotiations with partners or colleagues and meetings can start right from the office at the appointed time in a matter of minutes.
Interactivity. Collaboration tools are available to video conferencing participants: chat, desktop sharing, file sharing, polls, and more. This allows you to quickly and efficiently solve problems, even working remotely.
Mobility. Video conferencing can be connected from a computer and from mobile devices, which allows employees to stay connected anytime, anywhere.
Control. Business leaders using video conferencing can easily monitor the work of branch offices or remote employees.
Safety. Special data transfer protocols are used to protect video conferencing data, which contain modern and reliable encryption algorithms. This reduces the risk of data leakage and interception.
Thus, if a business needs personal communication to solve any part of the tasks, video conferencing will allow employees to do it faster and more efficiently.
Which business is suitable for video conferencing
Video conferencing can be used in business by companies that have:
-a complex multi-level organizational structure with various branches and divisions;
-a large number of remote specialists and interactions with outsourcing companies;
-business processes are organized by design (a large number of teams);
-the need to remotely present a product or service to customers and partners of the company.
Video conferencing is typically used by medium and large enterprises in a variety of industries such as IT, education, finance, government, sales, recruiting, and healthcare. And if you consider yourself a serious business, Redback Connect will be there for you.
Ways to implement video conferencing
Local – video conferencing systems, the servers of which are built into the company's infrastructure, operate only within its local network and are fully controlled by it.
Cloud (or software) – servers and the entire infrastructure for organizing sessions are at the provider who provides the company with a cloud video conferencing service over the Internet. The company has video conferencing software that is installed on computers, laptops, or mobile devices with Internet access, a camera, a microphone, or a headset. Thus, the provider has to control the video conferencing servers.
Hybrid – video conferencing systems, for the organization of which cloud and local solutions are used in parallel. The company can work both in the internal network and via the Internet. For example, use a local video conferencing system for internal communications, and a cloud-based one for communicating with external users.
Conclusion
Modern business communications are gradually flowing into a remote format. This trend applies to all sectors of the economy and business areas. Ready-made technical solutions can provide high-quality communication between a large number of users. But if a company needs flexibility in a solution taking into account the organizational structure and business needs and the ability to easily integrate it into existing processes and systems, then it is recommended that it implement a video conferencing system independently or with the help of professionals.
Mike is an Australian business consulting specialist. He's working with companies that outsource their IT maintenance. He often writes about technology, business, and marketing and is a regular contributor on several websites.
comments